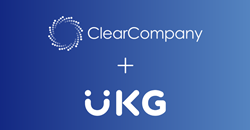 We're delighted to join the UKG Marketplace and partner with UKG to offer users a seamless technology experience. This partnership enables our mutual clients to focus on creating an excellent onboarding experience for their new employees.
BOSTON (PRWEB) June 21, 2022
ClearCompany, the premier talent management platform for talent acquisition, employee engagement, performance management, and planning and analytics, today introduced a new partnership with UKG, a leading provider of HR, payroll, and workforce management solutions for all people. With 250 technology and services partners, UKG provides one of the largest and most collaborative partner ecosystems in the HCM industry focused on creating better employee experiences for all people to improve business outcomes.
With this collaboration, ClearCompany joins that ecosystem on the UKG Marketplace alongside other technology partners that share UKG's vision of a 'frictionless employee technology experience that keeps people at the center of the workplace.' Users of ClearCompany and UKG can benefit from a hands-free integration between the two software solutions.
"We're delighted to join the UKG Marketplace and form a technology partnership with UKG to offer users a seamless bi-directional integration," said ClearCompany Chief Revenue Officer Brian Campbell. "This integration will streamline new hire data from ClearCompany to UKG Pro, which will save our mutual clients time and enable them to focus on creating an excellent onboarding experience for their new employees."
With this new integration, HR teams using ClearCompany and UKG can minimize errors and save time by avoiding double-data entry in the two systems. When a candidate's status is changed to 'hired' in ClearCompany, a new employee record is automatically created in UKG Pro. ClearCompany clients can request a customized integration if they need custom data fields or other unique functionality.
UKG solutions are developed with the UKG Life-work Technology™ approach to solution design. Life-work Technology has two components: people systems that inspire the workforce by enabling autonomy and flexibility, and by connecting people to their colleagues and roles with purpose; and work systems to help businesses thrive by offering higher productivity, optimizing teamwork, and providing more opportunity for people to support each other and their communities.
"At UKG, we strive to create lifelong partnerships with our customers that result in modern people experiences that anticipate employee needs beyond work and drive better business outcomes," said Mike May, vice president of technology partnerships at UKG. "By cultivating a highly engaged ecosystem of technology partners, including ClearCompany, we're able to help create a more seamless and empowering technology experience."
About ClearCompany:
For 18 years, ClearCompany has helped companies achieve their missions with software and best practices to hire, retain, and engage hundreds of thousands of A Players. We designed and built a unified platform to deliver exceptional headcount planning capabilities, unparalleled hiring and onboarding experiences, and performance management, employee engagement, and company-wide goal alignment that drives companies forward.