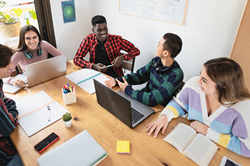 "The AXS Companion is the largest-ever commitment by IECA to a service project," said IECA CEO Mark Sklarow. "Through this resource, our members have the potential to positively impact the future of hundreds of thousands of students, helping them to achieve their academic, career, and life goals."
FAIRFAX, Va. (PRWEB) June 08, 2022
College enrollment continues to decline while barriers for under-resourced students grow—but The AXS Companion to Common App, a free online resource developed by the Independent Educational Consultants Association (IECA), in partnership with Oregon State University, aims to reverse this trend. Through 50+ audio and video modules, The AXS Companion walks students through each step of The Common Application platform, helping them to better understand how to complete each section based on their circumstances. The AXS Companion will be available for student use beginning in September 2022, as they begin the application cycle for fall 2023 admissions.
The Common Application (generally referred to as "Common App"), which is accepted by more than 900 colleges and universities, streamlines the college admission process for first-year and transfer college applicants by allowing them to apply to multiple colleges and universities at one time. It is the most frequently used college admission platform, with over one million student applicants each year.
However, applying to college through Common App can still be a confusing, overwhelming, and often stressful process for families unfamiliar with U.S. college admissions—particularly first-generation college applicants, low-income students, and/or students from under-resourced schools or school districts. According to Common App, approximately one-third of their applicants are first-generation students.
The COVID-19 pandemic further exacerbated challenges facing under-resourced students: closed schools meant reduced or no access to counselors, as well as limited opportunities for support from fellow students and teachers. Last year, Common App reports, 700,000 high school seniors created accounts on their platform but never completed an application.
Seeing this disparity, a group of IECA members set out to improve access to higher education and to create clarity in the college application process. The result is The AXS Companion, a free online resource of 50+ video and audio modules for each section of Common App, which aims to support hundreds of thousands of under-resourced students in their journeys to college.
Students using The AXS Companion may choose to either watch the videos as they complete each step of the Common App from beginning to end, or to watch an individual section's video to better understand how to respond to that specific section based on their circumstances.
This invaluable resource will help students build their confidence, reduce anxiety in the college application process, and showcase their gifts and talents for college admission officers—all in pursuit of their educational and life goals.
View this video to see samples of The AXS Companion and to learn more about the project: link.iecaonline.com/The-AXS-Companion-Intro
"The AXS Companion is the largest-ever commitment by IECA to a service project," said IECA CEO Mark Sklarow. "Through this resource, our members have the potential to positively impact the future of hundreds of thousands of students, helping them to achieve their academic, career, and life goals."
The AXS Companion was introduced at the IECA 2022 Spring Conference, May 16-18 in Philadelphia, PA and is expected to launch in mid-September 2022, when it will be presented at the National Association for College Admission Counseling (NACAC) National Conference in Houston, TX, September 22-24, 2022.
The AXS Companion will be available for student use following the NACAC Conference, as students begin the college application process for fall 2023 admission. Community-based organizations and non-for-profit groups advising students can contact IECA at info@IECAonline.com to be notified when The AXS Companion is available for their students.
About the project creators: Initially envisioned by IECA member Maite Halley as a series of live workshops for under-resourced communities, The AXS Companion was conceptualized as a video-based project by IECA member and Common App liaison Marily O'Toole due to the COVID-19 pandemic. Over the last eight months, O'Toole and many fellow IECA members specializing in college consulting—including Ibrahim Firat, Louise Franklin, Carolyn Gelderman, Anne Holmdahl, Sylvia Jackman, Amy Jasper, Jennie Kent, Jeff Levy, Janae McCullough-Boyd, Chantal Paiewonksy, Veena Rao, Pat Smith, and Juan Camilo Tamayo—wrote, edited, and recorded hundreds of hours of curriculum and scripts for the 50+ modules. They called on experts in various fields to support their efforts, and created modules that provide financial aid guidance, essay suggestions, and advice from college admission officers. O'Toole engaged Jon Boeckenstedt, vice provost of Oregon State University, and his colleagues at the Oregon State University Ecampus to build the platform to house the content, and to provide technical support. The project creators chose the name The AXS Companion because of the double entendre: improving student access through the collaborative axis of higher education and IECA.
About IECA: Founded in 1976, the Independent Educational Consultants Association (IECA) is the nation's leading professional organization for college advisors working in private practice. Families trust IECA's thoroughly vetted members to find a college that matches a student's academic, social, and financial needs and guide them through the search and application process. With 2,300 educational consultant members across the country, IECA provides education and training on admission, ethical practice, and adolescent issues from depression to anxiety to learning differences, to ensure every student is well served.
CONTACT: Sarah Brachman, Director of Communications, Sarah@IECAonline.com or 703-591-4850 x6971