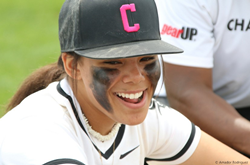 "It's all about opening doors so that more girls can play baseball at this level of competition, and with this level of recognition."
CHICAGO (PRWEB) June 08, 2022
Despite some positive steps toward greater inclusivity, baseball can still be a bit of a boys' club— in some cases literally so. Hailing from the greater Chicago area, the Chaneyville Baseball team is trying to change that. One of the only all-girls travel baseball teams in the country, Chaneyville Baseball has already racked up some wins playing in regional and local games across the country… and they've done so primarily by competing against all-boy teams. Now entering their first tournament season, Chaneyville Baseball has received a full sponsorship from the Chicago White Sox, marking them as the first all-girls travel team to win this distinction.
"It's all about opening doors so that more girls can play baseball at this level of competition, and with this level of recognition," says Fred Chaney, the veteran coach for whom the team is named. Coach Chaney is enthusiastic about the power of sports to motivate and inspire young people, something that is evident from his day job as a motivational speaker in schools across the greater Chicago area. But he is even more passionate about his team's boundary-breaking success. "Most of our players are used to being the only girl on an all-boys team," he notes. "We hope that what we're doing will totally change the paradigm."
Certainly, Chaneyville Baseball has accomplished much during its relatively short lifespan, not least by drawing the attention of the White Sox. "No other MLB team does this," comments Coach Chaney, noting that the Sox organization approached him about bringing Chaneyville Baseball under their organizational umbrella. Inspired both by Chaneyville's trailblazing model of inclusivity and its impressive win record, the White Sox has supported the team by funding equipment, paying tournament fees, and providing such perks as MLB tickets and gear. Additionally, five girls from Chaneyville Baseball were selected by the MLB organization and invited to join the league's Trailblazer Series in Vero Beach, Florida.
Coach Chaney praises the Sox and the MLB more broadly but reserves his highest praise for someone closer to home: His own daughter. He notes that she was the one who was passionate about playing baseball at a high level, and it was because of her passion that he started the team in the first place. "Now we're in a place where there are boys who play on teams sponsored by the White Sox, and their sisters can earn a place in the same organization," Coach Chaney comments. "We can all be part of the same family now."
Coach Chaney also offers praise for gearUP, the custom jersey company that provided Chaneyville Baseball with their uniforms for games and practices alike. "If you look good, you play good," he says of his uniform philosophy. "We put a big emphasis on sharp-looking uniforms and proper gear," a commitment that gearUP shares.
Ultimately, Coach Chaney hopes that the next few years will see more girls playing baseball, competing in historically boys-only leagues and tournaments, and even notes his desire to see a WNBA-style league for female baseball players. For now, he is planning to organize more girls travel teams, not only in Illinois but across the country. Girls who are interested in signing up may find more information on the Chaneyville Baseball website: https://chaneyvillebaseball.com/
ABOUT:
gearUP is a leading provider of custom youth sports uniforms, providing high-quality jerseys and apparel from leading brands such as Nike. The company works with teams and leagues across the country, including youth baseball, softball, volleyball, football, basketball, track and field, and more. Additional information is available at https://gearupwithus.com/.