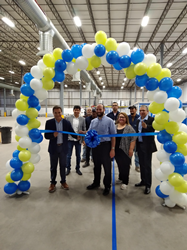 Abraham states "this expansion is one piece of the overall growth strategy set forth by executive leadership. The company has already received great dividends by reducing lead times nationwide. The development of this facility is a strategic one. The geographical choice was a calculated one."
ORANGEBURG, N.Y. (PRWEB) June 22, 2022
Guardian Booth, LLC, the premier leading manufacturer of prefabricated booths and
customized workspaces, with products that expand across all industries and are utilized in universal applications, announced the opening of their new state-of-the-art manufacturing facility in Juarez, Mexico with a distribution center in neighboring El Paso, Texas. Abraham Taub, the chief executive officer at Guardian Booth, states, "This expansion is one piece of the overall growth strategy set forth by executive leadership. The company has already received great dividends by reducing lead times nationwide." Abraham continues to say that "The development of this facility is a strategic one. The geographical choice was a calculated one."
With eighty-percent projected growth this year alone, the need to provide a more extensive manufacturing footprint was obvious, and the mission to serve customers throughout the U.S., Mexico, and Canada is unwavering. Gilberto Lopez, chief operating officer, expressed his enthusiasm for the project: "The development
of this facility was approached with a tactical vision that streamlines manufacturing processes while continuing to adopt the company's existing quality assurance from its Flagship location in New York." He continued, "With such a dynamic group of highly skilled individuals on our team, the accelerated rate of growth only invigorates us, making this a more exciting time!"
And an exciting time it is! While Guardian Booth is expanding its manufacturing capabilities and distribution fleets, they are steadfast in one area that will never change: their dedication to customer satisfaction. Guardian Booth's capabilities to design, engineer, and manufacture booths and custom workspaces to meet IBC standards and local building requirements gives the company a solution that can transcend industries.
Guardian Booth was established in 2014 with a driven focus on the manufacturing and distribution of custom and standardized booths. Since the company's conception, leadership has pushed the company to diversify its prefabricated solutions to include green, energy-efficient buildings with solar-panel integration. Other product expansion included customized mobile offices for warehouses and distribution centers, educational pods for individual learning sessions for students and teachers within educational facilities, and bullet-resistant units.
As the prefabricated industry grows year over year, there is one undeniable certainty: Guardian Booth is the premiere leader in customizable solutions no matter what industry you are in. Visit their website today at http://www.guardianbooth.com or contact info@guardianbooth.com to explore what options will be the very best solution for your company.