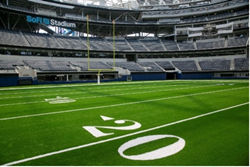 "With the installation of Hellas' Matrix Helix synthetic turf, SoFi Stadium is well prepared for hosting another incredible NFL season," said Otto Benedict, Senior Vice President, Facility and Campus Operations,
INGLEWOOD, Calif. (PRWEB) June 14, 2022
Hellas Construction has once again installed its elite Matrix Helix® synthetic turf system at SoFi Stadium, home of the Los Angeles Chargers and the reigning Super Bowl Champion Los Angeles Rams. The field is ready for another action-packed season for the Rams as well as the Chargers. Professional athletes demand the best playing surface, so it's no surprise that Hellas is gaining momentum as a major turf provider among NFL teams from coast to coast.
The NFL Championship Game was played at SoFi Stadium on February 13, 2022 on a Matrix Helix® field that Hellas installed specifically for the big game. Hellas completed the replacement of that field on April 27, 2022, as both LA teams prepare for the upcoming 2022/23 NFL season.
"As a venue that hosts world-renowned sports and entertainment events, SoFi Stadium requires the highest quality of synthetic turf on the market," said Otto Benedict, Senior Vice President, Facility and Campus Operations, SoFi Stadium and Hollywood Park. "With the installation of Hellas' Matrix Helix synthetic turf for our new field in April, SoFi Stadium is well prepared and looking forward to hosting another incredible NFL season."
SoFi Stadium is one of the crown jewels of American stadiums, and they are only touching the surface of huge upcoming events. SoFi Stadium will host the 2023 College Football National Championship and the 2028 Opening and Closing Ceremonies of the Olympic Games.
As America's largest vertically integrated sports construction contractor, Hellas is uniquely positioned to meet the athletic surfacing needs of multiple NFL teams installing synthetic turf at AT&T Stadium in Arlington, NRG Stadium in Houston, and Allegiant Stadium in Las Vegas. Hellas is not only installing synthetic turf in pro stadiums, but NFL practice facilities as well. In addition to the Cowboys', Texans' and Raiders' training centers, Hellas has also installed Matrix Helix synthetic turf at the indoor facilities for the Washington Commanders, Tennessee Titans, Miami Dolphins, Kansas City Chiefs, and Jacksonville Jaguars.
The Matrix Helix turf system incorporates the patented Helix Technology with RealFill over a paved-in-place Cushdrain shock pad. Matrix Helix turf consists of twisted fibers that incorporate Shape Memory Technology, enabling the fibers to spring upright after use. Matrix Helix enhances playability, minimizes "splash out" of the infill material and provides a predictable playing surface.
About Hellas Construction: Hellas Construction, headquartered in Austin, Texas, is vertically integrated and America's largest sports contractor specializing in the construction and installation of sports surfaces. The firm owns and operates its own heavy construction equipment staffed by specially trained and certified employee crews. Controlling the supply chain and workforce means that Hellas can complete any turf, track, or court project – start to finish- without delay. Hellas takes a turn-key approach to athletic facilities. Hellas owns and operates company-owned construction/installation equipment. The firm manufactures its synthetic turf, track, and court surfacing materials at three Hellas factories in the United States.
To learn more about Hellas visit http://www.hellasconstruction.com
About SoFi Stadium: SoFi Stadium, the home of the reigning Super Bowl Champion Los Angeles Rams and Los Angeles Chargers, is located at Hollywood Park, a near 300-acre sports and entertainment destination being developed by Los Angeles Rams Owner/Chairman E. Stanley Kroenke in Inglewood, Calif. The 3.1 million square-foot SoFi Stadium is the largest stadium in the NFL, as well as the first indoor-outdoor stadium. It seats approximately 70,000, expandable up to 100,000, with more than 260 luxury suites and more than 13,000 premium seats. SoFi Stadium was host to Super Bowl LVI and will host the College Football National Championship Game in 2023, and the Opening and Closing Ceremonies of the Olympic Games in 2028. Adjacent to the stadium and sitting under the same roof canopy is the 2.5-acre American Airlines Plaza and the 6,000-seat YouTube Theater. For more information about SoFi Stadium, visit http://www.SoFiStadium.com or @SoFiStadium on Instagram, Facebook, Twitter and YouTube.