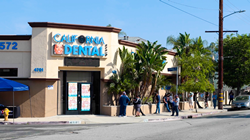 California Dental Group provided complimentary fillings, cleanings, and extractions to more than 70 adults who visited the Eagle Rock location on 'Free Dental Care Day'.
EAGLE ROCK, Calif. (PRWEB) June 14, 2022
Continuing its tradition of giving back to the community, California Dental Group recently provided free fillings, cleanings, and extractions to more than 70 adults participating in this year's Free Dental Care Day Event.
The May 25th event saw steady participation, as people lined up for the free services. Radio station KFWB 980 AM La Mera Mera provided music and entertainment, and pastries and beverages were provided to those who were waiting.
"This is our way of giving back to the community," said California Dental Group founder Dr. Kamran Sahabi. "Particularly now, as we are still rebounding from COVID-19 and wallets are stretched thin from inflation and other factors – we want to make sure that everyone has access to essential dental care."
Vouchers for free services on a different date were given to accommodate everyone who showed up, even those arriving late in the day.
"This is a big day for our entire staff and company. Our doctors, hygienists, assistants, and other team members are ecstatic and devoted to providing dental care to anyone who needs it – including the uninsured, underinsured and those without the means to pay for the services themselves.," said Dr. Sahabi.
Many of the day's participants, coming from underserved communities, said they haven't received dental care for over 10 years. Without the means to make ends meet, they said it has been impossible for them to receive the oral care that they deserve.
"At California Dental Group, we believe in making a positive impact in the lives of our patients and the community. "We want to grant millions of people the smile that they deserve," said Dr. Sahabi.
California Dental Group hosts these events at several of its 10 locations periodically throughout the year. Before the pandemic, as many as 1,200 residents would receive free dental care in a year at the network's various locations.
Dr. Sahabi said, "these Free Dental Day events are important to protecting the health of L.A.'s most vulnerable populations."
"Neglected teeth can often present more serious health challenges and impact an individual's quality of life. The more that we can help the community by satisfying their dental needs, the better!"
About California Dental Group
California Dental Group operates locations in Bellflower, Gardena, Glendale, Los Angeles, Montrose, North Hollywood, Riverside, South Gate, Upland and Whittier. The practice specializes in cosmetic, implant, emergency, and general dentistry. For information, call 1-800-734-7454 or visit http://www.cadentalgroup.com.