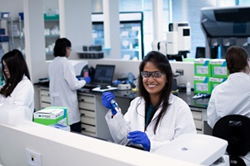 When we see major shifts in the market, we need to be able to change quickly. Quickly implementing changes was key to our success.
NORCROSS, Ga. (PRWEB) June 16, 2022
On May 18, 2022, Omega Bio-tek, Inc. was announced as one of the 40 honorees of the 2022 Georgia Fast 40 class. This will be the second year in a row Omega Bio-tek has received this honor. Omega Bio-tek is an industry-leading manufacturer of nucleic acid purification kits, and the company has experienced a significant amount of growth in the past five years. 
The Atlanta National Chapter of the Association for Corporate Growth® (ACG), a global professional organization with the mission of Driving Middle Market Growth®, announced the 2022 Georgia Fast 40 - recognizing the top 40 fastest-growing middle market companies in Georgia - on May 18, 2022. Executive Managing Director of Wildmor Advisors and chairperson of the Georgia Fast 40 Awards, Michelle Galvani, stated, "These companies represent more than 6,600 new jobs and nearly 2.4 billion dollars in revenue and growth over the last three years."    
Omega Bio-tek's tremendous growth and achievement can be partially attributed to the company's response to the need to supply nucleic acid purification kits used in RT-PCR-based COVID testing assays. Omega Bio-tek, Inc. was able to provide millions of viral RNA extractions globally over the past two years. This pivotal response during the pandemic could not have been possible without the company's fantastic team. Omega Bio-tek's hard-working employees significantly contributed to the company's ability to rapidly adapt to the changing market to meet and exceed the needs of laboratories and researchers worldwide.    
Omega Bio-tek's U.S. manufacturing facility located in Norcross, Georgia provides opportunities to increase growth. The manufacturing facility was expanded in 2021 following the 2020 acquisition of a new administrative and research & development building. The company has generated increased product demand as academic, medical and research laboratories are forced to overcome the restrictions the COVID pandemic has placed on global supply chains.
When asked what, over the past year, was the most important lesson learned, Omega Bio-tek Vice President Travis Butts responded, "When we see major shifts in the market, we need to be able to change quickly. Quickly implementing changes was key to our success." Omega Bio-tek continues to bolster its position as a leading nucleic acid purification solutions manufacturer.     
About Omega Bio-tek, Inc.     
Omega Bio-tek, founded in 1998, is an ISO 9001:2015 and ISO 13485:2016 certified, industry-leading manufacturer of DNA/RNA purification kits for clinical, biotechnology, and genomics research. With a diversified product portfolio for low-throughout to high-throughput purification, Omega Bio-tek kits purify high-quality nucleic acids from a wide variety of samples. Omega Bio-tek's products and services are used in thousands of universities and research institutes and over 100 different countries worldwide.     
Visit https://www.omegabiotek.com for more information on our products and services.     
Follow us on Twitter: @omegabiotek
Connect with us on LinkedIn: Omega Bio-tek
Like us on Facebook: @omegabiotek
Follow us on Instagram: @omegabiotek
Omega Bio-tek Media Contact:     
mailto:media@omegabiotek.com [media@omegabiotek.com __title__ null]
(770) 931-8400