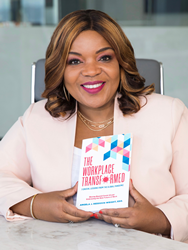 "As someone with over 25 years of experience helping employers and employees create thriving workplaces, I am convinced that now is a great time to unveil the curtain on some of the major challenges confronting individuals, businesses, and organizations in the aftermath of Covid-19."- Reddock-Wright
LOS ANGELES (PRWEB) June 18, 2022
Angela Reddock-Wright, a former employment and labor law litigating attorney, turned mediator, arbitrator, and workplace and Title IX investigator, announces the release of her first book: Workplace Transformed: 7 Crucial Lessons from the Global Pandemic- Moving Beyond COVID-19 and Embracing the New Future of Work, that is available on sale worldwide. The new book sheds light on the massive changes in the workplace caused by the global health crisis and provides specific, well-thought-out, and practical solutions critical to organizational success.
The immense impact of Covid-19 is undeniable. At a time when many workers are still struggling to adjust to the "new normal" and businesses are contemplating the future of work and new ways to move forward, Reddock-Wright's innovative ideas, strategies and insights serve as a valuable guide and a source of inspiration for employers and employees alike – at the height of the pandemic and beyond.
"As someone with over 25 years of experience helping employers and employees create thriving workplaces, I am convinced that now is a great time to unveil the curtain on some of the major challenges confronting individuals, businesses, and organizations in the aftermath of Covid-19," says Angela Reddock-Wright. "While dealing with unprecedented setbacks that are still wreaking havoc in today's workplace, we can focus on the positive and transform problems into opportunities, challenges into lessons learned, and better prepare for the future. That's what this book is all about."
Workplace Transformed reveals Reddock-Wright's 4Es and 3Ds – her unique formula for success in the wake of the prolonged pandemic. From Elevating human resources, Engaging employees, supporting Essential workers, responding to Employee protests and activism (4Es), to unveiling alternatives to the Daily commute, developing Disaster preparedness plans, and Discerning legal challenges (3Ds), the book outlines a step-by-step plan to create cohesive, productive, and successful organizations that deeply appreciate their employees and bring more value to their clients and customers.
"I wrote this book because I wanted to encourage readers to reflect on what this pandemic has meant to us and those close to us and think about how it has influenced the workplace – all across the United States and around the world," says Angela Reddock-Wright. "Rather than treating the global disaster as a mere blip in time, let's think of it as a unique opportunity for us all to take a collective breath and determine what we want our present and future to look like, especially when it comes to the world of work."
Mrs. Reddock-Wright, who is also a founding and managing partner of The Reddock Law Group, and a neutral with Judicate West, was recently selected as the featured cover story for the Spring 2022 issue of "Best Lawyers: Women in the Law" magazine highlighting the accomplishments and expertise of the top female legal talent in the country. The title of the story is, "A Conversation with Workplace Thought Leader, Angela Reddock-Wright: Destiny Fulfilled." A link to the article can be found at Reddock-Wright's website https://angelareddock-wright.com.
About Angela Reddock-Wright:
In addition to being recently selected for the cover of "Best Lawyers in America: Women in the Law", Angela Reddock-Wright was named a "Top 50 California Woman Attorney" by Super Lawyers, a "Top California Employment Lawyer," among other accolades. She is a distinguished employment and labor law attorney, turned mediator, arbitrator, and alternative dispute resolution (ADR) professional, helping employers and employees resolve some of the most complex workplace-related issues and disputes, especially in the post-pandemic world, the era of #MeToo, employee activism, and strides for equity and diversity. Furthermore, she is a strategic HR and diversity, equity, and inclusion (DEI) consultant and trainer.
Reddock-Wright is a highly-sought-after TV personality, legal analyst regularly appearing on ABC, CNN, MSNBC, BBC, Court TV, Entertainment Tonight, The New York Times, Washington Post, USA Today, People Magazine and many other major media outlets. She also hosts a weekly radio show on Tavis Smiley's radio station KBLA Talk 1580 of Los Angeles called "Legal Lens with Angela Reddock-Wright."
Find more information about Reddock-Wright's book on the website at https://angelareddock-wright.com/book/ or Amazon.
###