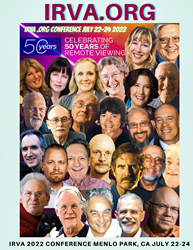 "Remote viewing creates a sense of euphoria" -- IRVA President, Debra Lynne Katz, PhD
MENLO PARK, Calif. (PRWEB) June 29, 2022
What if you could see the location of a submarine or satellite or even a soul mate... from your living room? Find a missing child, a long-lost lover or your car keys, by closing your eyes, relaxing, and drawing a detailed picture? Know the winning sports team or roulette numbers before arriving at the table?
Remote viewing is a systematic process for the application of intuitive abilities, that you can learn. It is done individually, in teams and in groups, and this form of controlled-intuition offers exciting and delightful community-building opportunities. This landmark conference is intellectually rigorous so it will satisfy educational goals, but also social and spiritual yearnings of participants. Remote Viewing is considered quite scientific because unlike many other psychic (PSI) modalities, you can work with the same blind protocols, separation of roles, careful pre-planning and post-session rating and analysis that scientists use in other disciplines. You can use PSI to describe any location, object, event, activity, or person -- past, present or future -- without being there physically. The protocols and structure of remote viewing helps the remote viewer to bring information to the surface: that which is in the hidden treasure chest deep in the caves of your subconscious mind; what depth psychologist Carl Jung termed the "Collective Unconscious".
RV was developed and used extensively by "Psychic Spies" during the Cold War for classified military projects under the code names "Stargate", "Sun Streak", "Grill Flame", and others. The CIA began funding its own top-secret research, headquartered at the Stanford Research Institute in Menlo Park, California in the 1970s. Over 40 U.S. government and intelligence agencies collaborated and it was so successful, the U.S. Congress and other oversight agencies continually renewed the Remote Viewer's contracts, over a period of 20 years.
At this intensive 3 day and evening "Visions for the Future" conference, participants will be lead through remote viewing "outbounder" experiments emulating those carried out in the early days of the research program around Menlo Park. One workshop will include how to conduct psychological profiling with remote viewing, led by IRVA board member Patty Gallagher.
We will even have an experimental research room open throughout the conference where participants can have fun participating in remote viewing tasks!
The all-inclusive package highlights include: 3 nights lodging at the Vallombrosa Retreat Center, 6 group meals, banquet dinner/award ceremony, tour of famous historical Remote viewing sites, exclusive parties (that includes everyone in attendance!) open bar serving drinks from Ingo Swann's upcoming recipe book, Talent Show, RV Game night, RV practice sessions, Funny Hat contest, Automatic Entry Into Raffle & Participation in Live Auction, etc. We will also have a book store on-site offering RV books so participates can have their purchases signed by the authors in attendance and talk with the original remote viewers, as well as the new stars of this cutting edge field, which is being embraced by physicists, PSI researchers in academia and mystics alike.
Dr. Harold (Hal) Puthoff, PhD, one of the featured speakers at the upcoming IRVA conference, and original Co-director of the Stanford Research Institute's psycho-energetics & remote viewing program, explains the extraordinary development of the program, "As a result of the material being generated by both SRI and CIA remote viewers, interest in the program in government circles, especially within the intelligence community, intensified considerably and led to an ever-increasing briefing schedule. This in turn led to an ever-increasing number of clients, contracts and tasking, and therefore expansion of the program to a multi-client base, and eventually to an integrated joint-services program under single-agency (DIA)."(1)
(Watch the Trailer of "Third Eye Spies": Hall, Russell Targ and many of their colleagues featured in the film will be speakers at this conference! https://youtube.com/watch?v=iBokQomPr_g)
Conference goers will be in good company and become a part of the vital history of Remote Viewing in the USA! Remote viewing is utilized by the highest levels of government in numerous nations. According to a CNN report, President Jimmy Carter revealed in a speech at Emory University in September 1995 that a "Special U.S. plane" crashed somewhere in Zaire while he was in office (2). According to Carter, U.S. spy satellites could find no trace of the aircraft, so the CIA consulted a psychic from California. Carter said the woman "went into a trance and gave some latitude and longitude figures. We focused our satellite cameras on that point and the plane was there."
Many of the remote viewers operating in President Carter's era will be at this hybrid conference (In-person, Live-stream and online), which includes groundbreaking lectures, presentations, & discussion sessions. The most illustrious and respected (and notorious!) remote viewers, past and present, as well as experts in the fields of consciousness, parapsychology, and PSI research will be available to answer questions, teach and inspire the next generation of remote viewers, which is open to anyone willing to practice.
Remote Viewing as "a scientific protocol" has gone on to enjoy a long history both as an intelligence gathering tool and as the subject of research and applications in the civilian world: with it, you can write and draw images and impressions that arise in the mind's eye, or sensations in the body. Psychics are known as "remote viewers" for their focus on physical objects and localities. Thousands over time have participated in an array of life-saving operations, from locating hostages kidnapped by terrorist groups to tracing the paths of fugitive criminals within the United States. RV has also been used by the Army and DIA to help uncover military and domestic intelligence secrets. It is utilized regularly in modern day for finding lost pets, missing persons, winning at slots, stock market investments, and meeting up with friends. Remote viewing is fun!
According to Dr. Debra Lynne Katz, IRVA's President and CEO of International School of Clairvoyance, who has trained hundreds in remote viewing: "In a recent experiment focusing on RV applications, several professional remote viewers reported that remote viewing makes them "high", it creates a sense of euphoria. It's like a psychedelic drug without the side effects...they also appreciated being able to use it to help solves crimes, find missing items and pets, and help clients solve problems." (3)
Featured speakers include:
Angela Thompson Smith: Ph.D formerly with Princeton Engineering Anomalies Research (PEAR) Laboratory. She runs Mindwise Consulting Company. Her many books include Seer, Tactical Remote Viewing, Scribe & Voices from the Cosmos. She is a co-founder of IRVA and head of IRVA's Historical & Archival Commitee.
Leonard (Lyn) Buchanan: former trainer and remote viewer for the U.S. government's remote viewing (also known as the "psychic spying") unit. George Clooney played a character based on Lyn in the Coen Brother's film, "The Men Who Stare at Goats". He is the Executive Director of Problems>Solutions>Innovations(P>S>I) and one of the premier remote viewing instructors today. He is author of The Seventh Sense: The Secrets of Remote Viewing.
Harold (Hal) Puthoff, Ph.D: Original Co-director of the Stanford Research Institute's psycho-energetics & remote viewing program; President, CEO and Chairman of the Board of EarthTech International, Inc., and Director of the Institute for Advanced Studies at Austin, presently on the IRVA board of directors. Hal is a theoretical and experimental physicist and is going to talk about his latest knowledge of secret UFO programs as well.
Russell Targ: Physicist and author who was a pioneer in the development of the laser, and co-founder of the Stanford Research Institute's investigation into psychic abilities in the 1970s and 1980s. Coauthor of The Reality of ESP, Limitless Mind, Do you see what I see?, Memories of a Blind Biker and co-author of Mind Research, The Mind Race, and several others. He is the star and executive producer of the documentary "Third Eye Spies" available on Amazon Prime, I-tunes and YouTube.
Julia Mossbridge: Julia is a neuroscientist, an affiliate professor in the Dept. of Biophysics and Physics at the University of San Diego, a fellow at the Institute of Noetic Sciences, and the co-founder and executive director of The Institute for Love and Time. She is the co-author of Transcendent Mind: Rethinking the science of consciousness; and The Premonition Code.
Dick Allgire: Dick Allgire is one of the foremost remote viewers in the world today. Allgire spent a long and distinguished career as an award-winning television news journalist from 1974 - 2012. He was an anchorman, reporter and producer at KITV, the ABC news affiliate in Honolulu, Hawaii. Formerly a lead instructor & viewer with the Hawaii Remote Viewer's guild, he is now lead viewer/producer of Crypto-viewing.
Patty Gallagher: Patty is currently serving on the IRVA board of directors and running various social media outlets. She holds a master's degree in Social Work from the University of Pittsburgh and has worked in clinical settings with both outpatient and hospitalized developmentally disabled adults. She established Signal Line Remote Viewers in 2000, and publishes an online RV education page and monitors an online weekly target practice group. She was featured in Eight Martini's Magazine Vol. 14 "Trainers". She will be leading conference attendees in an RV session of a famous person as part of her presentation.
Dale E. Graff (Keynote Speaker): IRVA's Vice President; Physicist and a former Director of Project Star Gate and one of the foremost experts in the world on precognitive dream ESP.
Debra Lynne Katz, Ph.D: IRVA President; CEO and Instructor of the International School of Clairvoyance, co-author of Associative Remote Viewing: The Art & Science of Predicting Outcomes for Finances, Sports, Elections and the Lottery and author of The Complete Clairvoyant, You are Psychic, Extraordinary Psychic, Freeing the Genie within, and many scientific articles in the areas of PSI research. She apprenticed with indigenous healers in the Philippines. Debra has an identical twin sister who is also a professional clairvoyant.
Jon Knowles: Jon Knowles has a B.A. in philosophy from Harvard University and an M.A. in English from U.C. Berkeley. He is co-author of "Associative Remote Viewing: The Art & Science of Predicting Outcomes for Financials, Sports, Elections and the Lottery", and author of "Remote Viewing from the Ground Up" (2017) and will be speaking about his own success and others with using remote viewing successfully to win the lottery.
Thomas (Tom) McNear -- Tom is a Lieutenant Colonel, U.S. Army (Retired). He was the first member of the Army Stargate program to be personally trained in Coordinate Remote Viewing (CRV) by Ingo Swann and the only member Swann trained through Stage VII; he was the "proof of principle guinea pig." Near the end of Tom's training, he and Swann discovered Stage VII (Phonetics). Using phonetics, Tom named many sites by name. He continues to develop rating methods for associative remote viewing projects. In 1985 Tom wrote the first CRV manual, Coordinate Remote Viewing Stages I-VI and Beyond
Jeffrey Mishlove: Jeffrey is the host of "New Thinking Allowed", having interviewed hundreds of leaders in the field of consciousness studies. He is a licensed clinical psychologist, author of The Roots of Consciousness; The PK Man, & Psi Development Systems, and one of the few to have earned a Ph.D in Parapsychology. He is the 1st place winner of the 2021 Bigelow Institute's essay contest for the best evidence of survival of consciousness after death.
Marty Rosenblatt: Marty Rosenblatt has a B.A. in Physics from UCLA (1964) and a M.S. in Physics from UCLA in 1966. He is the founder of the Applied Precognition Project, and has been a project director for literally tens of thousands of trials involving the stock market, horseracing sports predictions, etc.
Paul H. Smith, Ph.D: is a retired Major in the United States Army who served for seven years in the U.S. government's RV program at Fort Meade, Maryland. During 1984, he became one of only a handful of government personnel to be personally trained in controlled remote viewing methodology by Ingo Swann "father of remote viewing". Paul is considered one of the leading trainers of Controlled remote viewing methodology today.
Additional info:

The International Remote Viewing Association is a non-profit, 501(c)(3) organization dedicated to promoting the responsible use and development of remote viewing. They are an independently formed, non-profit member organization of scientists, remote viewing professionals, students, and other interested persons. IRVA offers free information to inform and educate the public about the nature and uses of remote viewing and additional benefits to our supporting membership. For more information, visit us at http://www.irva.org.
Social Media Links:
LINKEDIN
https://www.linkedin.com/company/international-remote-viewing-association/
INSTAGRAM
https://www.instagram.com/irvapics/?hl=en
TWITTER
https://twitter.com/irvatweets
FACEBOOK
https://www.facebook.com/IRVA-International-Remote-Viewing-Association-121030527964765/
Quote References:
(1) H.E. Puthoff (1996) CIA-Initiated Remote Viewing At Stanford Research Institute. https://www.newdualism.org/papers/H.Puthoff/CIA-Initiated%20Remote%20Viewing%20At%20Stanford%20Research%20Institute.htm
(3) CNN report Regarding President Jimmy Carter: http://www.cnn.com/US/Newsbriefs/9509/9-21/am/index.html
(2) Debra Lynne Katz & Jon Knowles.(2021). Remote Viewing:The Art and Science of Predicting Outcomes for Sports, Politics, Finances and the Lottery. Living Dreams Press, Santa Barbara.
Video Credit: Kayla Bulgatz of LitMMedia