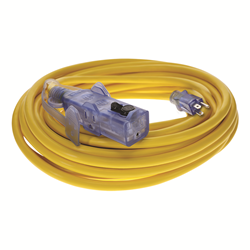 Prime Wire & Cable's Product Manager, Matthew Wright says, "The unparalleled flexibility of the slim design of this patent pending connector has the convenience of bringing power to three tools at once, but with a slim design that feels more like a standard single outlet cord."
LOS ANGELES (PRWEB) June 20, 2022
Prime Wire & Cable Inc. a world leader in the manufacturing of extension cords is pleased to announce the development of a new patent-pending slim triple-tap (SL3™) cord. The heavy-duty 12/3 SJTW contractor quality cord has three outlets in a very slim and compact design built into a lighted PRIMELOK® locking plug end connector.
The three-outlet slim triple-tap brings power to three tools from one compact cord design. Prime Wire & Cable's Product Manager, Matthew Wright says, "The unparalleled flexibility of the slim design of this exclusive, patent-pending rugged SL3™ connector helps prevent this cord from getting caught on ladders or door jams or other typical obstructions on a job site. It has the convenience of bringing power to three tools at once, but with a slim, low profile connector design that feels more like a standard single outlet cord than the typical large block or fan style 3-outlet connector."
"For an added benefit, our PRIMELOK® locking connector keeps your power tools securely connected to the primary outlet," said Wright. The slim triple-tap, SL3™ connector also includes a Primelight® Indicator Light to show when power is on. Ideal for harsh working environments, the cord stays flexible in temperatures from -40°F up to +140°F, is water-resistant and flame retardant. Its flexible but durable design makes it easy to coil. Wright adds, "Whether you're using a high amp power saw or charging your job site tools, it's the only cord you'll need." https://primewirecable.com/collections/featured-innovations/products/50ft-12-3-sjtw-sl3-br-slim-3-outlet-extension-cord
The SL3™ cord was developed with easy-to-grab plugs and strain reliefs, which help prevent the wire from separating from the plugs, it also includes nickel-coated brass blades to resist corrosion and arcing. For harsh weather environments, the cord's SL3™ connector features molded plastic covers to protect the unused outlets and is certified to UL standards for outdoor use. Two convenient loops near the outlet allow the cord to be hung from a hook for storage or off the ground on a job site. The SL3™ cord is available in a variety of sizes, 100ft, 50ft, and 2ft. For more information see us at: http://www.primewirecable.com.