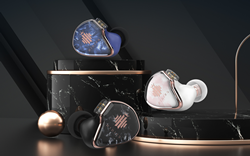 4 Custom-designed BA drivers, 4 tuning styles, 3-way crossover
DONGGUAN, China (PRWEB) June 22, 2022
The MD4 sound is produced through vibrations from an intricate connective rod conducted to the centerpoint of a miniature diaphragm. The Balanced Armature driver has remarkable noise canceling capacity. It's also tiny, which reduces intrusion into the ear canal, further minimizing sound leakage. The Balanced Armature driver unit is virtually a sealed container, powered by minimal charges and highly sensitive. The outstanding sound quality of the Balanced Armature driver makes it an audiophile favorite.
Of all HIDIZS earphones, the Dynamic driver and Balanced Armature driver earphones have consistently stood out. The 1 Dynamic driver & 1 Balanced Armature driver 2-unit MS2 and the 1 Dynamic driver and 3 Balanced Armature drivers 4-unit MS4 earphones are known for their top-notch quality, and have received great feedback. And now, the pure Balanced Armature drivers 4-unit earphones are finally available after years of dedicated research and development debugging.
MD4 is equipped with four HIDIZS proprietary Balanced Armature driver units. Years of R&D have resulted in incredible performance and a neat soundfield. The four Balanced Armature driver units are clearly distinguished: a BA driver for smooth and transparent trebles, crystal clear resolution, and rich details; another BA driver for balanced vocals that are crisp, delicate and pleasing to the ear, with a simple texture; two bass BA drivers that double the power to inspire accurate and resounding undertones.
MD4 uses a redesigned high-precision 3D-printed acoustic conduction structure. Years of acoustic and electronic tuning experience when into the accurate articulation of different frequency bands. Reasonable allocation of treble, balanced and bass transmission, to ensure outstanding performance at every frequency band. Overlapping interference between different units have been greatly reduced to ensure consistent output. The output is more stable, distinctively layered and rhythmic, due to increased sound density, and reduced distortion as well as harmonic resonance, resulting in smoother audio transmission overall.
The MD4 has 4 tuning switches, similar to the tuning valves on the MM2, for enhanced customizability. Using electronic crossover technology, the 2-speed tuning switch is used to produce four different sound styles. You can switch between a comprehensive selection of balanced, warm, treble, and bass with ease. Balanced: the classic tuning style of HIDIZS, suitable for most people's listening style. Warm: all frequency bands are represented, with obvious musicality, suitable for folk, pop class. Treble: smooth reproduction of high frequencies, suitable for rock and electronic music. Bass: compact and powerful, suitable for symphonic music, classical music. Whatever your preference, you'll be able to experience a flawless reproduction.
Outside of its enchanting sound, you won't be able to take your eyes off the MD4. With an amber sheen that's smooth, warm, and crystal clear, as well as an entirely handcrafted and polished face panel configured to a CNC one-piece body, the MD4 dances to the music it plays. The aluminum alloy body substantially reduces internal harmonic resonance and distortion, rendering the sound output unmistakably consistent.
HIDIZS ergonomic design philosophy is reflected in the signature curve of our earphones which fit seamlessly to the human ear. The earphones connector is designed for comfortable wear in long listening sessions, attached to a lightweight and aesthetically-pleasing four-strand cable braided from 60 high-purity silver wires + 60 high-purity oxygen-free copper wires. Silver wires produce a sensual quality, balanced by the supple sound of copper wire, for a smoother and more stable listening experience. Expect a richer listening experience from the 0.78mm 2pin detachable cable design and enhanced compatibility with listening devices.
The MD4 comes with an assortment of exquisite accessories handmade by seasoned craftsmen using high-quality PU leather. The storage case is waterproof, shock-proof, and soft to the touch. Its opening is equipped with a magnetic clasp and is reinforced with an iron lining to protect your earphones from external pressure. It's immaculately stitched, environmentally friendly and durable. The inside is lined with a soft flannel, which protects against scratches to the surface of your earphones and eliminates moisture.
MD4 is Hi-Res certified by JAS (Japan Audio Association) and CEA (Consumer Electronics Association). A must-have for high-end audio equipment, the certification is trusted by audiophiles and recommended by notable voices in the audio space.
The obvious choice for edgy audiophiles in search of high-end gadgets.
HIDIZS MD4 4 Balanced Armature Drivers HiFi In-ear Monitors, now is available in Hidizs shop.
For more details, please visit Hidizs official website.
https://www.hidizs.net