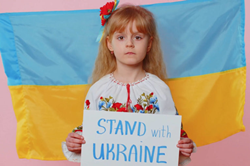 "Brave and bold of musician T Bear and Quarto Valley Records to stand up and sing out. There is no place in the world for this type of genocidal tyranny." - Paul Rodgers.
NEW YORK (PRWEB) June 20, 2022
Appalled by Russia's invasion of Ukraine, singer-songwriter Richard T Bear (T Bear) wanted to take action and help the Ukrainian people. The talented Quarto Valley Records artist did what he does best - create a song. What began as a poem transformed into the powerfully moving "Red Harvest." "I watched as the missiles and bombs rained down upon the civilians; people trying to flee the death and destruction," recounts T Bear. I walked over to my piano, and in less than thirty minutes, I had the idea of 'Red Harvest.'"
The fundraising video/song will aid the Ukrainian Red Cross.
Joined by the legendary musician Paul Rodgers on guest vocals, who also makes a cameo appearance in the video, "Red Harvest" projects a haunting, ominous vibe, with the military-like drumming re-enforcing the war zone environment; T Bear's soulful, passionate singing, however, rises as a voice of hope, and the song concludes quite poignantly with a solitary violin playing the Ukrainian national anthem. The video's live performance footage is well-paired with images of Ukraine. T Bear appears on a beach, dressed in Ukrainian blue and yellow, singing to the rising song.
IF YOU'D LIKE TO SUPPORT, CLICK THE LINK BELOW TO DONATE TO THE UKRAINIAN RED CROSS
https://donate.redcrossredcrescent.org/ua/donate/~my-donation
"Red Harvest" also features the exemplary talents of award-winning drummer Tony Braunagel, who produced T Bear's recent album Fresh Bear Tracks on Quarto Valley Records, bassist Leland Sklar, guitarist Laurence Juber, Ada Pasternak on violin, and Gia Ciambotti on background vocals. All participating artists donated their talent and time. The song was produced by Tony Braunagel and co-produced by Laurence Juber.
"T Bear was truly inspired when he wrote "Red Harvest," Rodgers says. "I think we are all shocked at what is happening in Ukraine. Such a feeling of helplessness. We all do what we can."
With "Red Harvest," T Bear has taken his outrage and channeled it into a compelling piece of music in the hope that it will provide assistance and demonstrate solidarity to stand with the people of Ukraine.
RED HARVEST
Written by Richard T Bear
Produced by Tony Braunagel
Co-produced & recorded by Laurence Juber
Richard T Bear – vocals & keyboard
Paul Rodgers – vocals
Leland Sklar – bass
Laurence Juber – electric and acoustic guitar
Ada Pasternak – violin
Tony Braunagel - Drums
Gia Ciambotti – Background vocals
Cinematography/Bobby Bragg & Bill Megalos
Editing/EFX/Graphics - Bobby Bragg
Additional recording by JP Berreondo at Jellybean Studio
Mixed by J.J. Blair
Mastered by Peter Doell
About Richard T Bear (T Bear)
A distinctive singer, songwriter and keyboardist, Richard T Bear, aka T Bear, boasts a career that spans more than forty years. In 1978, he signed with RCA Records and released three albums, including his debut Red, Hot and Blue, which featured the hit "Sunshine Hotel." As a highly in-demand session musician, T Bear has collaborated in the studio and on stage with acts like Mick Fleetwood, the Doobie Brothers, Crosby, Stills and Nash, Richie Havens, Gene Simmons, and Odetta as well as writing songs for artists ranging from Cher to Billy Squier. In 2020, he signed with Quarto Valley Records and released his first studio album in twenty-five years, Fresh Bear Tracks (2021). The acclaimed recording featured a stellar list of guest artists, including Stephen Stills, Robby Krieger, Edgar Winter, Tom Scott, and Walter Trout. https://tbeartracks.com/ - Facebook, Instagram, Twitter
About Quarto Valley Records
Founded by tech entrepreneur Bruce Quarto, the California-based independent label Quarto Valley Records represents Rock, Blues, Jazz, and Americana genres with an impressive artist roster featuring legacy musicians Paul Rodgers, Savoy Brown, and Edgar Winter – in addition to the legendary talent that comprises The Immediate Family, GRAMMY® award-winning producer, and percussionist Narada Michael Walden, blues-rock artist Sean Chambers, Wings member Denny Seiwell, the renowned and soulful Richard T Bear (T Bear), British Blues band Bonham-Bullick and emerging Americana artist Dominic Quarto. https://quartovalleyrecords.com
Visit Quarto Valley Records on its social media pages: Facebook, Twitter, Instagram
Contact:
Lucy.sabini@luciamediagroup.com - 917-864-0060