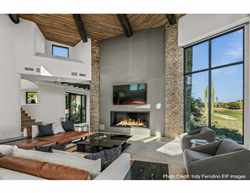 We have immersed ourselves into an industry that touts functionality, beauty, and lifestyle. We're interested in providing that "warmth in your soul," the contentedness and calm which is comparable to the warmth of a glowing fireplace and dancing flames. Bill Harris, Founder
RIVERSIDE, Calif. (PRWEB) June 21, 2022
Mason-Lite, a recognized leader in modular pre-cast masonry fireplace systems including traditional, linear, custom, and vent free systems, plus outdoor living hearth products is pleased to announce the launch of their new website, mason-lite.com.
The new website features an attractive gallery of products, lifestyle imagery, resources, videos, and brand history, beginning with the company's 2005 origins. Mason-Lite.com pairs a modern aesthetic with the company's timeless mission which is to make the dream of having a fireplace in the master bedroom, upstairs retreat, kitchen, or even outdoor patio a reality, without major building infrastructure reinforcement. When asked about the company's marketing strategy behind the redesign, Bill Harris, Founder, stated, "We have immersed ourselves into an industry that touts functionality, beauty, and lifestyle. We're interested in providing that "warmth in your soul," the contentedness and calm which is comparable to the warmth of a glowing fireplace and dancing flames. It was time to really portray the lifestyle and emotion in our company branding, and what better place to start than our website?"
For industry professionals in the design, architecture, or builder space, the Mason-Lite team will be attending the AIA Conference on Architecture 2022 at McCormick Place in Chicago, IL on June 22-24. Attendees are encouraged to visit their booth #3954 (south building, level 3, main aisle) to learn more about the company, their products, and to inquire about available CEU events certified by AIA. Mason-Lite representatives will be available to review blueprints as well.
Mason-Lite fireplaces are sourced and manufactured entirely in the USA.
Like, follow & subscribe to Mason-Lite's social media channelsl! Facebook LinkedIn Instagram and YouTube. Visit their website frequently for news, product updates and more!