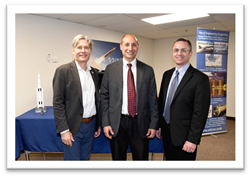 New Jersey's 7th Congressional District is taking America back to the moon.
SPRINGFIELD, N.J. (PRWEB) June 21, 2022
Valcor Engineering Corporation, a world-class designer and manufacturer of custom precision fluid and motion controls for space, aircraft, nuclear, and scientific/industrial industries, recently had the honor of having Congressman Tom Malinowski visit their facility in Springfield, New Jersey. Congressman Malinowski represents New Jersey's 7th District.
During his visit, Representative Malinowski toured the facility, where he was able to see the process of designing and manufacturing products for the space industry, as well as for the aircraft, nuclear, and scientific markets. He then took the time to address some of Valcor's employees where he discussed the topics of space and aircraft programs currently funded by Congress, and even answered some questions from the group. A Star Trek fan since childhood, Representative Malinowski talked about his personal interest and commitment in ensuring that Congress continues to fund space-related programs in particular.
"New Jersey's 7th Congressional District is taking America back to the moon," said Representative Tom Malinowski. "I am encouraging our Congressional leadership to move forward the supply chain and domestic manufacturing provisions I authored in the America COMPETES Act so companies like Valcor can continue to build the technologies of the future."