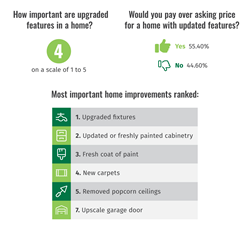 Over 55 percent of buyers will pay more for a home with updated features like new fixtures and freshly painted cabinets.
DENVER (PRWEB) June 21, 2022
Sellers spend time and money upgrading areas of a home that will never see a return on the investment. The team at Paint Denver took a closer look at what nearly 1,000 recent homebuyers had to say about their most-wanted features. This May 2022 study explores what homebuyers desire most, what stands out about a home while shopping, and the features that lead buyers to increase their offer.
The research shows that only 9% of shoppers are looking for a fixer upper and nearly 50% of shoppers want a move-in ready home. Beautiful landscaping was the most influential component for homebuyers while shopping, with over 51% ranking it as the very first thing they notice. Nearly 20% of respondents will pay 2%–5% over asking price for a home that has been freshly painted.
According to the findings, homebuyers are very likely to haggle on the selling price if the paint is in bad shape. Eighty-four percent will expect a discount if the interior paint is peeling, and a whopping 89% will haggle over exterior paint.
Visit http://www.PaintDenver.com to see the detailed survey results and to learn consumers' priorities when buying a home.
Methodology and Limitations: The survey data were gathered using Survey Monkey services. Of the respondents, 694 were female, and 644 were male. To qualify for this survey, respondents had to have bought a house in the past 7 years. 208 respondents were aged 18–29, 431 were aged 30–44, 392 were 45–60, and 308 were over 60 years old. Feedback was received for each region in America. The household income range of these respondents were between $100,000–$199,999. The survey data is self-reported by respondents. Selective memory, telescoping, attribution, and exaggeration are some of the known issues with self-reported survey data.
For more information and to view this research's fair use statement please visit: https://paintdenver.com/must-haves-in-home-improvement/.