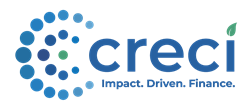 Impact investing should not be reserved for only the privileged. In fact, for investments to be truly impactful, they need to be open to all. Our mission is to foster and build a community of like-minded investors and sustainable businesses that share in the ethos of doing well while doing good.
NEW YORK (PRWEB) June 22, 2022
Creci's Impact Investing Platform enables impact-minded U.S. investors to support sustainable companies that strive to solve some of the world's most pressing challenges, and earn an attractive 5% fixed return on their investments, which can start with as little as $10.
The U.S.-based impact investing company launched its innovative impact investing platform in February, 2022, which offers accessible, convenient impact investing for individual US retail investors. Since then, investors have been simply and easily registering accounts at http://www.crecinotes.com/ and making investments within minutes - no fees, no lineups, no hefty minimums. With this new release, it is now also possible for institutional investors to build the future of finance today by investing to support companies that are making a social or environmental impact in the Americas.
Creci CEO Andres Idarraga and COO Pravin Rodrigues believe strongly in altering traditional capital flows to increase support for the small and medium enterprise sector, the backbone of the economy in the Americas, and a powerful source of innovation and change to spur the transition to a green economy. At the same time, Creci is fulfilling the desire of individual and institutional investors for access to alternatives that are not just the same old offerings repackaged as impact investments, or accessible only to some investors. Creci Notes can be purchased for social and environmental impact with as little as $10. Creci clients are tackling sustainability challenges from lack of access to clean water to decent jobs and economic growth in marginalized communities and electric mobility. Profiles of some of these clients can be found on the company's site under "Impact Stories".
To learn more about impact investing for businesses and to invest on the Creci impact investing platform, please visit: https://www.crecinotes.com/.
About Creci
Creci, pronounced "kress-see", is a social impact fintech for the Americas that brings together sustainability and finance to mobilize business to create social and environmental change. We believe that individual and institutional investors have a very important role to play in making lasting change within the existing economic system. We provide impact investment products to the public and credit products to companies that enable them to scale their businesses and expand their impact.
Disclosures
Creci securities consist of promissory notes ("Creci Notes") that are offered to eligible investors pursuant to Regulation A+ under the Securities Act of 1933, as amended. Creci is not a bank, and investments in Creci Notes are not bank deposits. They are not insured by the FDIC or by any other governmental agency. Investing in Creci Notes involves risk of loss. You should always carefully consider investments in any security, and you should be comfortable with your understanding of the investment and its risks. Creci is not an investment adviser or a broker-dealer, and does not provide investment, legal, or tax advice. Information provided herein is for educational purposes only and is not tailored for any individual investor. For more information on risks related to investing in our Notes, please see our latest filings with the Securities and Exchange Commission.
Creci currently cannot accept investments from residents of Florida or Washington. We are working to obtain the required approvals to do so. Until such time that the approvals are secured, no money or consideration is being solicited from those states, and if sent prior to such approval, will not be accepted.