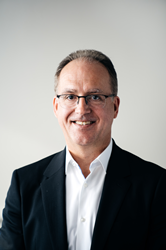 Eric has the right vision, experience and skills to elevate HCFB to be the undisputed leader in the salon industry.
MCLEAN, Va. (PRWEB) June 23, 2022
Hair Cuttery Family of Brands (HCFB), the largest privately held chain of hair salons in the country, announces Eric Bakken, a salon industry veteran, as its new President & CEO.
With more than 40 years in business, HCFB relaunched in 2020 under new ownership and amid the COVID-19 pandemic. The company's new executive team managed to safely reopen more than 500 salons across 10 states, paving the way for over 5,000 employees to return to work. Now stabilized, the company's focus is on seeking new ways to improve the stylist and guest experience through tech-driven solutions and revitalized salons.
Bakken joins HCFB after more than 30 years in senior leadership positions at Regis Corp. Most recently, he ran all aspects of its largest salon division as Executive Vice President. He also had spent time as the company's Chief Financial Officer, Chief Operating Officer, Chief Administrative Officer, Head of Business Development, General Counsel, and interim CEO. Bakken's move to CEO consolidates leadership roles most recently held by Seth Gittlitz and Azhar Quader, who helped lead HCFB's turnaround during the pandemic.
"Eric has the right vision, experience and skills to elevate HCFB to be the undisputed leader in the salon industry," said Lee Solomon, a member of HCFB's Board of Directors. "The next phase of HCFB's expansion requires leadership that can harness the power of technology, business intelligence and marketing analytics to pull the salon industry forward into the digital age. Eric is the rare business leader who is as comfortable in a salon as he is in the board room. Eric understands our greatest assets will always be our salon professionals."
"I am thrilled to have joined HCFB's team," said Bakken. "I am so impressed with what this team has accomplished, and I want nothing more than to keep us growing sustainably. I believe HCFB has a great business model and talented management team that positions it well to capitalize on the changing salon industry. As the industry evolves out of COVID, we have to be laser focused on staffing, technology solutions and revitalizing our existing salons. Through these initiatives, I believe HCFB will be in a position to continue to offer its guests an affordable indulgence that will make us the preferred salon choice among consumers."
Bakken earned a B.A. from St. Mary University of Minnesota and a J.D. from Mitchell Hamline School of Law. He chairs the Philanthropic Board of the University of Minnesota's Masonic Cancer Center.
####
ABOUT HAIR CUTTERY FAMILY OF BRANDS
Hair Cuttery Family of Brands (HCFB) is the official home of Hair Cuttery®, Bubbles®, and cibu®. As a multi-brand company of hair salons and professional styling products, HCFB provides an affordable indulgence for all. Putting our stylists at the heart of our business allows us to embrace a hospitality-driven approach to hair care. After relaunching in 2020 with a mission to create human connections by giving the confidence of style, our company empowers thousands of Salon Professionals to deliver exceptional Guest service. HCFB continues to transform the beauty industry by adopting tech solutions that personalize the Guest experience inside and outside of the salon. We are the everything hair experience for your entire family. For more information, visit haircuttery.com and bubblessalons.com.