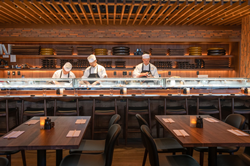 BOSTON (PRWEB) June 23, 2022
Blue Ribbon Restaurants, the critically acclaimed hospitality group helmed by Chef-Owners Bruce and Eric Bromberg, today debuts its award-winning Blue Ribbon Sushi in Boston's Kenmore Square neighborhood. Located on the doorstep of Hotel Commonwealth and steps from Fenway Park, Blue Ribbon Sushi marks the first of three exciting new Blue Ribbon restaurants planned for the vibrant neighborhood. Celebrating its 30th anniversary this year, the nationally renowned group is proud to bring the next evolution of its iconic Japanese concept to the neighborhood and the city of Boston, where it will contribute to the ongoing transformation of Kenmore Square, employ local staff and management, and support local purveyors.
Chefs and Owners Bruce and Eric Bromberg (James Beard Award Finalists, "Best Restaurateurs"), along with their late partner, Master Sushi Chef Toshi Ueki, first brought the world-class, yet accessible, Blue Ribbon Sushi concept to life in 1995 in New York City's SoHo neighborhood, where it still operates as a local institution. Since then, the two brothers and the Blue Ribbon team have opened nearly a dozen sushi locations in New York, Los Angeles, Las Vegas, and Miami. Now debuting in Boston, they look forward to building a connection in Kenmore Square and the greater city of Boston, including the nearby universities, the growing entertainment district and the Fenway faithful.
"For the past 30 years, we've worked closely with New England purveyors to showcase fresh seafood across our menus, so the Blue Ribbon Sushi opening in Kenmore Square is a homecoming of sorts," said Bruce Bromberg, Chef and Co-Founder of Blue Ribbon Restaurants. "Blue Ribbon is truly a family-run company, and we care about our guests, our staff, and the residents who live and work around us. We take great pride in creating these amazing, fun, and lasting places that become an integral part of each neighborhood that are inspired by our unique surroundings."
The 120-seat Blue Ribbon Sushi—designed by longtime collaborators at Guzy Architects—sources a wide range of seafood from the Sea of Japan, the Pacific Ocean, and of course, local New England waters, offering guests elevated traditional Japanese fare such as sushi, sashimi, maki, and zensai in a fun, casual atmosphere. The restaurant's distinct beverage program features signature cocktails, premium Japanese whiskey and beer, and a varied sake selection, which includes Blue Ribbon's own proprietary Junmai, Junmai Ginjo, Junmai Daiginjo, and Nigori.
Welcomed via a new street-level entrance or from inside Hotel Commonwealth, guests can opt for seating at the 14-seat mahogany sushi counter, an adjacent six-seat cocktail bar, and in the dining room. Interior spaces, paneled in oak and featuring Japanese fired-brick tiles, take inspiration from Blue Ribbon's Sullivan Street flagship, but also feature colorful tailoring for the new Boston setting, including a hand-painted mural by Katherine Meredith featuring a historic harbor scene, and a printed work featuring a written-word story by Blue Ribbon Sushi co-founder Toshi Ueki. A private dining room seating 50 is available for groups and small parties.
Blue Ribbon Sushi is open Tuesday through Sunday from 5:00 p.m. to 10:00 p.m., with extended service and lunch to follow. For more information and for reservations, please visit http://www.blueribbonsushikenmore.com. Follow along on social media @blueribbonsushikenmore.
Address: 500a Commonwealth Avenue, Boston, MA 02215
Website: http://www.blueribbonsushikenmore.com
Phone: 617-264-0410
Reservations: Opentable.com
Opening Hours: Tuesday – Sunday, 5pm – 10pm
Private dining and event spaces are available.
###
About Blue Ribbon Restaurants
Established in 1992 by Chefs Bruce and Eric Bromberg, Blue Ribbon Restaurants has grown from the original Blue Ribbon brasserie in New York City's SoHo neighborhood to nearly 20 premiere culinary destinations across the country. Each restaurant offers its own unique and authentic dining experience inspired by its settings, staff and local flavor. The concepts include fun, eclectic brasseries, an outdoor "Fountain Bar", a casual fried chicken spot, and the famous Brooklyn Bowls (in NYC, Las Vegas, Philly and Nashville), in addition to their renowned Blue Ribbon Sushi restaurants. For more information about Blue Ribbon, please visit http://www.blueribbonrestaurants.com.