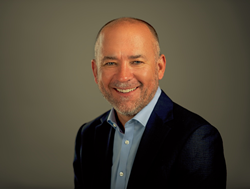 "My role as CRO is to lead Storj as it enters new markets, creates additional revenue channels, and brings decentralized cloud storage to customers around the globe," said Mark Glasgow, CRO, Storj.
ATLANTA (PRWEB) July 13, 2022
Storj, the leader in enterprise-grade, globally distributed storage, today announced the appointment of Mark Glasgow as chief revenue officer. With his extensive storage technology experience, Mark will be responsible for growing revenue with enterprise customers, building out the channel, and leading the Storj sales team.
A seasoned executive, Glasgow has worked at venture funded startups such as SolidFire (acquired by NetApp) as well as Fortune 50 multinational corporations such as Dell and Micron Semiconductor. He has extensive direct-to-enterprise and channel sales experience and a deep understanding of enterprise data storage, data management, data analytics, cloud, hybrid multi-cloud, and web-scale architectures, in addition to volatile and non-volatile memory and semiconductor manufacturing.
Glasgow has a proven track record of building and leading teams through highly competitive and complex sales cycles with consistent quota attainment and global revenue growth in both mid-market as well as major enterprises. Mark has a demonstrated history of bringing new storage solutions to market, disrupting entrenched legacy providers.
​​"I am honored to join an innovative company like Storj that is delivering enterprise-grade Web3 infrastructure now, especially in these times of austerity. Storj offers a service that will enable enterprises of all sizes to dramatically cut costs immediately, no matter what their current storage strategy is," said Glasgow. "My role as CRO is to lead Storj as it enters new markets, creates additional revenue channels, and brings decentralized cloud storage to customers around the globe."
Storj has established momentum with Web2 IT infrastructure teams and developers by providing a highly performant, more secure, private, cost-slashing alternative to the mega cloud storage lock-in and environmentally wasteful hyper-scaler architectures. Storj is well positioned with a disruptive product -- set to deliver on two major and imminent cloud architecture shifts: 1) Web3 and the internet privacy mandate and; 2) the move to globally distributed and edge-based workloads stack.
"We couldn't be happier to have Mark join Storj as our new CRO and member of the executive team, bringing his expertise to accelerate revenue growth across Web2 and Web3 markets," said Ben Golub, CEO, Storj. "Mark's experience in storage technology will help navigate the decentralized adoption curve as we bridge from Web 2 to Web3 with new ideas and revenue streams."
In September 2020, Glasgow received recognition while at Hammerspace from CRN Magazine as one of the 100 People You Don't Know but Should, and in 2011 received another honor from CRN Magazine while working at XIO Storage for the CRN Magazine Channel Chief Award.
Glasgow is a graduate of Brigham Young University and the Marriott School of Management. He has completed four Ironman Triathlons, 52 marathons and 17 Leadville Mountain Bike Races.
About Storj
Storj is a leader in decentralized cloud object storage. Built for developers, architects, and IT ops professionals, Storj delivers blazingly fast, CDN-like performance at cold storage prices, enterprise-grade durability, and better security with no vendor lock-in and no single points of failure. Storj meets the leading-edge privacy and sustainability demands for traditional use cases, Web3, and dApps. Easily integrated into any existing stack with S3 compatibility, Storj is architected as a trustless globally distributed network that utilizes existing excess storage capacity making performance, privacy, resiliency available to any size organization, at 1/5 to 1/20 the price of hyperscalers. Storj stores multiple petabytes and has petabyte-scale enterprise and Web3 customers like Pocket Network, Gabb Wireless, University of Edinburgh, and CIMMYT. STORJ is an ERC-20 token, used as an exchange of value across Storj's network of storage providers.
To learn more about Storj, visit storj.io. Follow us on Twitter at @storj.