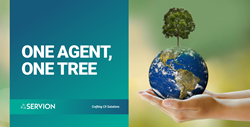 PRINCETON, N.J. (PRWEB) July 21, 2022
Servion, a leading contact center and CX solutions provider, announced a new reforestation initiative dedicated to continuing in the spirit of National Forest Week in the United States.
To contribute to planting more trees and making an immediate and tangible impact that supports forest recovery and restores native ecosystems, Servion is launching the 'One Agent, One Tree' campaign.
Starting today, Servion will plant one tree for every contact center agent license and ten trees for each bot license that is sold, deployed, or managed. The one-to-ten ratio results from an approximation. It's not that a bot (chatbot, voice bot, robot) is equivalent to ten humans; AI, automation, and natural language processing can generate significant productivity gains but require substantial computing resources.
"At Servion, we are fully committed to doing our part to better the environment, and this reforestation initiative is part of our long-term endeavor to raise awareness and contribute towards the betterment of the community," said Laurent Philonenko, Chief Executive Officer of Servion Global Solutions. "If the whole contact center industry were adopting this initiative, assuming a seven-year renewal cycle, we would plan about two million trees per year. I am inviting our partners and customers to join us and make this initiative even more impactful."
About Servion
For more than 25 years, Servion has been trusted by customer-centric brands for architecting, implementing, and managing Contact Centers and Customer Experience (CX) solutions. Servion delivers complete solutions for businesses to innovate in providing digital experiences using the best available technologies while maximizing their existing investments. Our 1,000 CX professionals apply their passion and deep domain expertise to the entire build-run-optimize solution lifecycle. Servion has helped 600 enterprises worldwide deliver great experiences to their customers, partners, and employees. For more information, visit https://www.servion.com.