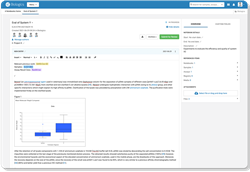 "The easy referencing of data and use of templates has significantly improved the quality of our notebooks and decreased the time they take to author."
SEATTLE (PRWEB) August 03, 2022
LabKey recently launched an electronic lab notebook to meet the increasing complexity of scientific research. Electronic lab notebooks (ELN) were once viewed as little more than a note-taking or word-processing application. The LabKey ELN breaks this stereotype by providing scientists with a user-friendly ELN for documenting experiments, surfacing relevant data, detailing meaningful conclusions, and collaborating with team members. The ELN is fully integrated with two of LabKey's flagship products- Sample Manager and Biologics LIMS. This powerful addition to LabKey products allows scientists to:

Save time authoring and reviewing notebooks with templates, notifications and an intuitive interface
Highlight valuable data by linking directly to samples, assays and other data
Collaboratively author and discuss notebook entries and their referenced data
LabKey developed the ELN in partnership with Just-Evotec Biologics who were looking to replace their legacy system. After evaluating several options the team at Just-Evotec decided to partner with LabKey to build a modern "data-connected" ELN that fully met their requirements. Along with a streamlined user interface to boost the efficiency of authoring and reviewing, their requirements also included the ability to reference data and add attachments. The LabKey ELN has been in use at Just-Evotec since late 2020 and has been widely adopted across the organization.
"The user-friendly design and intuitive features made it easy for our team to adopt the LabKey ELN," said Randal Ketchem, Senior Vice President of Biotherapeutic Discovery and Molecular Design at Just-Evotec Biologics. "The easy referencing of data and use of templates has significantly improved the quality of our notebooks and decreased the time they take to author."
The LabKey ELN has been designed for life science organizations with increasing volumes of data that seek to improve data reproducibility, data integrity and protect their intellectual property. Coupling the electronic lab notebook with the other LabKey products creates a powerful solution for unifying scientific research, data and teams. To learn more and take a tour of the LabKey ELN please visit: https://www.labkey.com/products-services/electronic-lab-notebook/
About LabKey - Since 2003, LabKey has provided software solutions that help overcome the data management, collaboration and workflow challenges faced by scientific research teams worldwide. Serving more than 500 research organizations and thousands of users, LabKey works hand-in-hand with clients to understand the complex needs of modern labs and develop solutions that help bridge the gap from data to discovery. To learn more visit http://www.labkey.com.