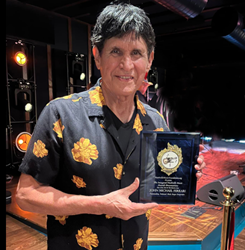 "There's nothing I enjoy more than entertaining an audience. And, I am delighted and appreciative at the positive response to our songs. It's a fun ride." John Michael Ferrari
NASHVILLE, Tenn. (PRWEB) August 02, 2022
Multiple award-winning entertainer singer songwriter John Michael Ferrari named "Outstanding Male Singer Songwriter" by the Nashville Music Foundation. The beautiful plaque was presented to John Michael Ferrari by Mr. Al Bowman at The Electric Jane in Nashville, Tennessee, where Ferrari performed for the crowd, accompanied on the stage by talented singers Tarryn Aimee Smith and Dene Williams.
John Michael Ferrari writes, composes, and performs his own musical material which has received numerous awards and accolades. It's been a big several years for Ferrari. In 2022, the singer/songwriter released several of the songs that hit the top of Top 40, AC/Hot AC, and Country radio charts, including New Music Weekly, National Radio Hits, and Independent Music Network: "My Heart Can't Breathe," Masquerading in the Night," and "Be the Smile on Your Face". Ferrari and his music Producer, Pepper Jay, recorded their last two albums at Larry Beaird Music Group, Nashville: "Be the Smile on Your Face" (2020) and "My Heart Can't Breathe" (2022), with additional vocals by Tania Hancheroff.
Pepper Jay was recently named "Outstanding AC Music Producer of the Year" by the Producers Choice Honors for their crossover single "My Heart Can't Breathe." For the same song, John Michael Ferrari was crowned "Crossover Artist of the Year 2021" by the New Music Awards and voted "Fan Favorite 2021" by the Independent Music Network. John Michael Ferrari's music is earning comparisons to many of the top artists and arrangers. Coupled with his unique heartfelt textured vocals, his musical hooks, and cross-genre melodies, Ferrari and his songs produce enjoyable entertainment.
John Michael Ferrari's popular love / wedding song "Paint You a Love Song" released as a single August 1st, 2022, on all music outlets. "Wanna paint you a love song, across the sky, sign it with a rainbow, dot it with an I."
When asked about his many successes, John Michael Ferrari responds with a big smile, "There's nothing I enjoy more than entertaining an audience. And, I am delighted and appreciative at the positive response to our songs. It's a fun ride."
John Michael Ferrari is known as much for his songwriting skills as for his performance abilities. He is no stranger to the spotlight. John Michael Ferrari's website JohnMichaelFerrari.com will assist you with his public performance schedule.