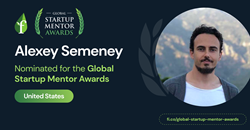 Alexey commented, "I am honored by this nomination from The Founder Institute.
PALO ALTO, Calif. (PRWEB) August 04, 2022
DevTeam.Space is proud to announce the nomination of its CEO Alexey Semeney for the 2022 Founder Institute Global Startup Mentor Award.
Founder Institute is the "world's most proven network to turn ideas into fundable startups, and startups into global businesses." The institute was founded in 2009 to help upcoming entrepreneurs raise funds for their startups.
Over the last 13 years, Founder Institute has raised an incredible $1.75 billion in funding. This money has empowered over 6000 entrepreneurs and companies to bring their innovative ideas to market to help change our world for the better.
Each year, the Founder Institute Global Startup Mentor Award is given to startup mentors who have "demonstrated outstanding commitment to sharing their expertise with early-stage #entrepreneurs throughout the American startup ecosystem, and particularly within the Founder Institute Network."
Alexey is one of 26 Startup Mentors recognized for their dedication to helping mentor the upcoming generation of startup entrepreneurs in the United States. While competition is stiff, Alexey is honored by this nomination and humbled by the recognition of his expertise.
Alexey commented, "I am honored by this nomination from The Founder Institute. It is wonderful to be recognized alongside other great entrepreneurs and industry experts. I believe that if we reach our true potential, we should build on the knowledge of those who came before us. That is why I am passionate about mentoring and devote my time to educating the next generation of entrepreneurs."
The Global Startup Mentor Award winner will be announced at the FounderX 2022 conference. If you wish to attend the awards, you can discover how at FounderX.com/attend.