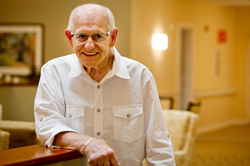 "Our community is a much better place because of Paul. He never stops giving to all of us. He makes everyone's day brighter, and we are so happy to have him as a member of our family." -Anne DeMinico, executive director of The Village at Willow Crossings
MANSFIELD, Mass. (PRWEB) August 04, 2022
The Village at Willow Crossings is known for its culture of caring that's been built over the past 23 years, and it's this culture that has earned them yet another recognition. The Benchmark independent living, assisted living and Mind & Memory Care community has been awarded the Massachusetts Assisted Living Association's (Mass-ALA) 2022 Excellence Award for Resident Spirit.
Resident Paul DeAngelo was honored for embodying the heart and soul of the community, leading and interacting with other residents in a way that makes The Village home for everyone.
The award nomination noted that, since moving to The Village a year and a half ago, there's not been a single person who hasn't been touched by DeAngelo's passion for life and people. DeAngelo's own life is one that has inspired his fellow residents, having survived The Vietnam War and the unimaginable loss of family members.
As a member of The Village's welcoming committee, he makes each new resident immediately feel like they belong and focuses on helping them find what they love and their purpose. He's extended his decades-long excitement for beadmaking to all residents—patiently helping those who cannot use their dexterity to create earrings, bracelets and other pieces of jewelry.
"Kindly supporting one another in a way that only friends and neighbors can is what has continued to make The Village great," said Anne DeMinico, executive director of The Village. "Our community is a much better place because of Paul. He never stops giving to all of us. He makes everyone's day brighter, and we are so happy to have him as a member of our family. I'm thrilled that Mass-ALA has seen what we see daily in Paul and our community."
In addition to the Mass-ALA 2022 Excellence Award for Resident Spirit, The Village was recently the only senior living community in all of Bristol County to receive U.S. News & World Report's Best Assisted Living 2022-2023 Excellence Award.
In addition to independent living, The Village at Willow Crossings offers traditional senior assisted living and independent assisted living for those who would benefit from a safer, engaging environment, chef-prepared meals, supportive living services, transportation and assistance with daily activities, such as getting dressed and medication management. Residents enjoy connecting over programs and amenities offered in many common spaces, including an indoor pool, English Pub, tearoom, recreation room, fitness and wellness centers, library, hair salon, private dining room and outdoor courtyards with walking paths.
The community also offers an award-winning Mind & Memory Care program featuring carefully created living environments and unique opportunities for those with Alzheimer's and dementia to find joy in each new day. Memory care assisted living residents are supported by 24/7 care providers who have been hired for heart and educated in memory loss, communication and empathy. Neighborhoods provide the comforts of home and have unique features that help those with memory impairment stay connected to who and what matters most to them. Thoughtful touches, visual cues and purposeful amenities further promote familiarity and wellness.
For more information about The Village at Willow Crossings, click here.
# # #
About Benchmark Senior Living
Benchmark is New England's largest senior living provider with 64 independent living, assisted living, memory care and continuing care communities and over 5,000 dedicated associates providing compassionate care and outstanding experiences throughout the Northeast. The Waltham, Mass.-based company was founded over 25 years ago by Tom Grape with the purpose of Transforming Lives Through Human Connection. Since then, Benchmark has continued to set the industry standard, having won over a hundred local, regional and national awards for its care, programs and as a top workplace. Benchmark has been named one of the Top Places to Work for 14 straight years in The Boston Globe's annual employee-based survey and received repeated recognition in FORTUNE's Best Workplaces for Aging Services list. For more information, visit BenchmarkSeniorLiving.com.