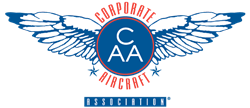 "I'm confident David's extensive business management and leadership experience will be invaluable as we seek to enhance and grow our association." –CAA Chairman of the Board Joe Budd.
FORNEY, Texas (PRWEB) August 05, 2022
Corporate Aircraft Association (CAA), the leading jet fuel program in the United States, announced that David Scobey was named President and Chief Executive Officer. In addition, the company announced that PJ Clark, who has been acting President for the last six months, has been promoted to Chief Operating Officer of the association. These changes are effective immediately.
David is the retired President and CEO of AT&T Southeast. He served for six years as the Chairman of the Board of Lipscomb University, was the past Chairman of the TBM Owners and Pilots Association, and served on the Board of CAA for the last two years. David received a BS Degree in Electrical Engineering from Auburn University and is a graduate of the Harvard University Advanced Management Program.
"David is the right leader for CAA at this time," said CAA Chairman of the Board Joe Budd. "I'm confident David's extensive business management and leadership experience will be invaluable as we seek to enhance and grow our association."
"I'm excited to join the great team at CAA in this leadership role," said David Scobey. "I believe we can make our fuel program even more valuable for our members while growing the number of incredible FBO partners we have."
"I am excited that the board is recognizing PJ Clark's effective daily operations of our association," commented David. "She is a wonderful leader of our operations and customer service team and well respected by the board, our members, our FBO partners, and our employees."
About Corporate Aircraft Association
Its members and FBO partners have long recognized CAA as the best jet fuel discount program in the US. CAA has been bringing together Part 91 jet fuel customers and FBOs since 1995 and has grown yearly.
http://www.corpaa.us