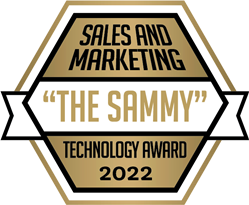 "Apollo.io's vision is to revolutionize how businesses grow by making state-of-the-art GTM simple, intelligent, and accessible to all," said Tim Zheng, Co-founder and CEO, Apollo.io.
SAN FRANCISCO (PRWEB) August 10, 2022
Apollo.io, the integrated B2B sales intelligence and engagement platform, today announced that it has received two new industry awards for its Sales Engagement & Intelligence platform. The 2022 Sales & Marketing Technology Awards (a.k.a "The Sammys") by Business Intelligence Group selected Apollo.io as "Product of the Year" in the Customer Relationship Management category. The 2022 SaaS Awards have also recognized Apollo.io on a short list for "Best SaaS Product for Sales and Marketing."
"Apollo.io's vision is to revolutionize how businesses grow by making state-of-the-art GTM simple, intelligent, and accessible to all," said Tim Zheng, Co-founder and CEO, Apollo.io. "We are honored and humbled to be recognized for our sales intelligence and engagement platform, which integrates the most accurate buyer data with powerful engagement, automation, and intelligence tools to help emerging businesses find and target the right buyers at the right time with the right message."
Apollo.io helps over one million professionals, across 160,000 companies, automate their sales processes and increase their revenue by 10X. Apollo.io's platform includes a B2B contact database with information on over 220 million buyers. Furthermore, the platform offers powerful and smart sales engagement features to help sales teams automate their workflows and outreach driving increased productivity. Apollo.io streamlines the sales process by integrating with other sales tools including Salesforce, HubSpot, Marketo, Sendgrid, and LinkedIn.
The Business Intelligence Group was founded with the mission of recognizing true talent and superior performance in the business world. The Sammys honor organizations and products helping to solve the challenges organizations have connecting and collaborating with prospects and customers. Unlike other industry award programs, business executives—those with experience and knowledge—judge award submissions. The organization's proprietary and unique scoring system selectively measures performance across multiple business domains and then rewards those companies whose achievements stand above those of their peers.
The SaaS Awards provide international recognition to organizations specializing in innovative business software. The program aims to celebrate excellence and innovation in the area of cloud-based "solutions as a service," and serves as the de facto recognition platform for the cloud computing and software industries. Head of operations for the SaaS Awards, James Williams, said: "Innovative technologies have always driven industry, and having disrupted the software business, SaaS continues to mature as a key driver for sustained improvement."
In addition to these two new awards, Apollo.io was recently recognized by the 2022 Golden Bridge Awards as "Best Business Sales & Marketing Intelligence Solution." Apollo.io is also a top-ranked Sales Intelligence, Lead Intelligence, Marketing Account Intelligence and Sales Engagement solution on G2 Crowd, ranking 3rd on G2's prestigious 2022 Fastest Growing Products list. It beat thousands of companies across the reviewer's website, and is also listed as one of the Top 100 Software Products, with one of the highest satisfaction rankings of 4.8 out of 5 stars. With over 2,000 reviews, Apollo.io is ranked higher than competitive products on ease of use, quality of support and ease of setup.
For more information about Apollo.io, please visit https://www.apollo.io/.
About Apollo.io
Apollo.io is the leading B2B sales intelligence and engagement platform, trusted by over 160,000 companies and more than one million users globally, from rapidly growing startups to some of the world's largest enterprises. Apollo.io provides sales teams with easy access to contact data for over 220 million contacts, along with tools to engage with these contacts in one single platform. By helping sales professionals find the most accurate contact information and automating the outreach process, Apollo.io turns prospects into customers. To learn how Apollo.io can enrich your sales database to increase qualified sales leads and opportunities, visit https://www.apollo.io/.
###