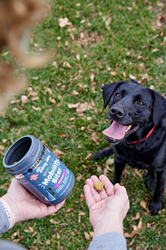 A large and growing majority of pet owners think about their pet's health just as much as their own, and whether they're choosing foods and functional supplements or toys and grooming salons, pet parents are inquiring how to give their fur babies the very best
ORLANDO, Fla. (PRWEB) August 10, 2022
In honor of the nationally celebrated holiday of Spoil Your Dog Day on August 10, Zesty Paws®, an Orlando-based functional pet supplement brand, is sharing the unique ways in which pet parents have been found to spoil their pets.
Zesty Paws® and OnePoll conducted a recent survey with 2,000 cat and dog parents and found that over half of pet parents (65%) say they spoil their pets daily, while over half (57%) of respondents said they spoil their pets "24/7" by cherishing priceless moments such as celebrating their pet's birthday (44%) and holidays together (42%). Six in 10 Millennial and Gen Z respondents said they spoil their pets to no end — celebrating everything from birthdays, Gotcha Days, new toys, or an extra treat for simply being adorable.
The survey also found that three in four pet parents will exclusively feed their pet the best quality food, treats, and supplements they can afford, and 64% will even make meals for their pets from scratch. While most women (70%) said they enjoy spoiling their pets, 61% of men also stated they get joy from treating their pets to anything they want.
"In the past few years, we're seeing more and more pet parents treating furry family members like their own children," said Yvethe Tyszka, Vice President of Marketing at Zesty Paws®. "A large and growing majority of pet owners think about their pet's health just as much as their own, and whether they're choosing foods and functional supplements or toys and grooming salons, pet parents are inquiring how to give their fur babies the very best."
To mark the paw-some national holiday encouraging pet parents to spoil their dogs even more, Zesty Paws® has put together a list of ways to celebrate National Spoil Your Dog Day:

Bake some dog-friendly cupcakes or serve them some ice cream with peanut butter or their favorite snack. If your dog is on a diet, tasty, functional supplements like Zesty Paws® can be a healthier alternative to help spoil your dog with high-quality ingredients that support their overall wellness.
Take your four-legged friend on a shopping spree at your local pet shop to pick out a new toy or treat.
Go on an outdoor adventure together. Take your dog for a long walk, hike, or out for an exciting day at a local dog beach or park. Make sure you are supporting your dog's joint health before all the fun with a joint supplement like Zesty Paws® Mobility Bites for dogs to support their hip and joint function.
Pamper your pet with a haircut or nail trim at your local grooming shop or doggie day spa.
Cook a special meal for your dog with their favorite foods.
For more information about Zesty Paws®, visit ZestyPaws.com or follow the brand on Instagram. You can also learn more about the full survey results here.
ABOUT ZESTY PAWS®
At Zesty Paws®, our passion is simple: to enable and inspire a ZEST FOR LIFE in pets and pet parents. We strive to be the most innovative and trusted brand in functional supplements to guide and empower pets on their wellness journey. Zesty Paws® products have over 250,000 5-star ratings and reviews combined on Amazon, Chewy and Zestypaws.com* and have been regularly recognized as bestsellers on Amazon. Knowing that pet parents love to spoil their pets, we take pride in our commitment to striving to provide innovative and high-quality pet supplements, as well as unparalleled customer service. Zesty Paws® has been recognized by Newsweek as one of America's Best Petcare Brands in 2022. For information about Zesty Paws®, you can visit ZestyPaws.com or follow along on social media on our Instagram, Facebook, or TikTok.
*Ratings and reviews based on all Zesty Paws® supplements on Amazon, Chewy and ZestyPaws.com via Power Reviews as of May 31st, 2022