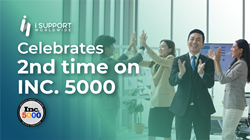 Rewards and recognition are never the ultimate goals. At iSupport, our goal is quite simply our people. Whether our staff or our clients, we are here to deliver delight, make the process easy, and help our stakeholders excel.
WASHINGTON (PRWEB) August 19, 2022
American business magazine Inc. recently released the Inc. 5000 fastest growing companies 2022 list. The annual ranking is based on the percentage of revenue growth rate, giving those in the prestigious business catalog well-deserved recognition for their noteworthy progress in competitive industries. iSupport Worldwide, a first-time honoree in 2021's rendition, made the list for the second consecutive year.
iSupport Worldwide is a US-owned offshoring solutions firm in the Philippines, helping businesses of all sizes in multiple industries expand globally while significantly reducing costs. The ever-changing business landscape plagued by one global challenge after another can be a massive opportunities for businesses looking to grow. In a period where mass employee layoffs, extreme cost-cutting measures, and operational disruptions due to health and safety regulations are prevalent, growth seems farther out of reach. iSupport Worldwide's determination to help clients navigate these obstacles, and thrive despite them, built the foundation that allowed the company to sustain rapid growth.
iSupport Worldwide: Key to Adaptability
There is no question that businesses must be strategically adaptable today. There is so much instability and risk as global events continue to disrupt business operations, especially over the past two years.
iSupport specializes in helping clients adapt through these fast-paced changes, whether through solving staffing problems or incorporating innovation in a specific business process. This helped securing its inclusion in the list of the Inc. 5000 fastest growing companies for 2022.
Every industry has goals specific to its standards, requiring more than just generic solutions to overcome. To deliver the results expected of them, offshoring firms focus their services on the following aspects:

Reducing operational and labor costs
Giving clients access to a vast talent pool of specialized skills
Securing technologies and facilities that would otherwise be inaccessible or costly to pursue directly
Providing businesses opportunities to scale up affordably
iSupport Worldwide considers those factors as necessities, but the company's core values revolve around exceeding its client's expectations. In the quest to deliver delight, iSupport tailor-fits its offshoring solutions to Clients' problems and long-term growth strategies.
If your business needs professionals for in-demand roles key to your operations, this two-time Inc. 5000 fastest growing companies 2022 honoree can scout, hire, and further train your offshore team. On their website, you can learn more about iSupport's comprehensive learning programs and other value-adding services.
iSupport Worldwide Delivering on Last Year's Promise
iSupport Worldwide's debut in the Inc. 5000 list allowed clients and potential customers to see how rapidly the offshoring solutions firm is transforming. In the previous year, iSupport Worldwide emphasized a commitment to excellence and a passion for unlocking success as its key drivers in a bid for a second consecutive year on the prestigious list. What locked it in was another vital element that proved effective in keeping current clients satisfied and more potential customers engaged despite trying times: adaptability.
iSupport Worldwide's efforts to adapt to the challenges and keep abreast of trends continue to delight its clients, resulting in them adjusting business plans to make offshoring what it should always be: a long-term solution for rapid growth and expansion.
Adaptability is among the primary reasons iSupport Worldwide kept its spot on the prestigious Inc. 5000 fastest growing companies 2022. Staying on top of trends, delivering delight to its clients, and adjusting to the business landscape challenges cultivate another strong year for the 16-year-old organization.
iSupport Worldwide Continues to Serve
iSupport Worldwide President, Courtney Bissett, appreciates being part of this exclusive business community of renowned companies in America. While this is a huge achievement, Courtney shares that it does not end here. The award will not stop the offshoring solutions firm from adapting, innovating, and working hard to provide high-quality services for businesses that wish to grow further.
"Being recognized as part of the Inc. 5000 list is an incredible honor. Again, I am beyond grateful to our fantastic team members and clients who put us on this list. However, rewards and recognition are never the ultimate goals. At iSupport, our goal is quite simply our people. Whether our staff or our clients, we are here to deliver delight, make the process easy, and help our stakeholders excel.
For our clients, we strive to remove any obstacle their businesses face with precision. Our offshoring solutions are only part of the services we provide, with many other support services to offer. We are far more than just a menu of services, though. We consider our clients our partners, helping them uncover any challenges and developing long-term solutions, so they become trailblazers in their field.
For our staff, we want to provide a supportive and people-centric culture that rewards effort and supports growth.
We've made it our mission to adapt to what our people need us to be, and for that, we are changing the game, helping us emerge as global leaders in our industry."
Adapting to the unfamiliar can be challenging, but iSupport Worldwide's dedication to adapting with you can help you feel more confident about what is in store for your business. That critical skill helped the company keep its spot in the Inc. 5000 fastest growing companies 2022 list. If you wish to unlock your full potential, you can book a call here or contact us through the following channels:
More About the Inc. 5000
Inc., one of the world's most trusted business-media brands, offers entrepreneurs the network, resources, and knowledge to build rapid-growing companies. Its award-winning multiplatform content reaches over 50 million people across various channels monthly, including email newsletters, social media, websites, podcasts, print, and business-related news. Its prestigious Inc. 5000 list, produced yearly since 1982, analyzes business data to identify the fastest-growing privately held businesses in the United States through revenue growth rate. The global recognition of inclusion in the list of 5000 allows entrepreneurs to engage with a very exclusive network of their peers and the credibility that helps them drive sales and recruit talent.