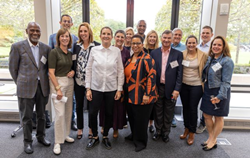 "We were honored to be welcomed home to celebrate the launch of You Should Smile More," said Dawn Hudson, former President and CEO of Pepsi-Cola North America and founding member of The Band of Sisters, "It is so rewarding to see the enthusiasm of the next generation of leaders at PepsiCo."
PURCHASE, N.Y. (PRWEB) September 09, 2022
The Band of Sisters, six former PepsiCo leaders gathered at PepsiCo headquarters in Purchase, N.Y. on Wednesday, September 7 in front of associates and alumni to launch their new book, You Should Smile More – How to Dismantle Gender Bias in the Workplace. More than one hundred and fifty current associates and alumni colleagues attended the event where the Sisters shared remarks and copies of their book.
The Band of Sisters--Dawn Hudson, Angelique Bellmer Krembs, Katie Lacey, Lori Tauber Marcus, Cie Nicholson, and Mitzi Short--met over the course of two decades in various roles at PepsiCo between 1987 and 2016. The company is where they first bonded and began to learn, support, and value ways to advocate for themselves and each other in their careers. Wednesday's launch is the official beginning of the Sisters giving inspiring and action-filled talks at companies across the country about how to recognize and effectively respond to micro-aggressions that are rooted in gender bias and to build a more inclusive workplace culture.
The gathering was co-hosted by Anne Fink, Global President of PepsiCo Foodservice, and Tina Bigalke, Global Chief Diversity, Equity, and Inclusion Officer of PepsiCo.
"At PepsiCo, we know that business thrives and people are at their best when diversity and inclusion are a priority," said Anne Fink. "We were thrilled to host The Band of Sisters for a conversation centered around creating an equitable future for all women in the workplace."
Tina Bigalke adds, "PepsiCo continues to have open discussions about gender parity and inclusion, particularly as we strive to progress toward our pep+ goal to achieve gender parity in managerial roles by 2025. We welcome these accomplished alumni to inspire our current and future generation of leaders and continue to push the envelope on what is possible."
"We were honored to be welcomed home to PepsiCo to celebrate the launch of our book, You Should Smile More - How to Dismantle Gender Bias in the Workplace," said Dawn Hudson, former President and CEO of Pepsi-Cola North America and founding member of The Band of Sisters, "It was fun to reconnect with our former colleagues, and so rewarding to see the energy and enthusiasm of the diverse, inclusive next generation of leaders at PepsiCo. This evening was a perfect full circle moment in our careers."
Based upon the latest research, personal accounts, and interviews with dozens of professionals, both women and men, You Should Smile More shows witnesses, allies, and supervisors at every level in their careers how to dismantle everyday gender bias – one little thing at a time.
About The Band of Sisters
The Band of Sisters are Dawn Hudson, Angelique Bellmer Krembs, Katie Lacey, Lori Marcus, Cie Nicholson and Mitzi Short, six executive-level women who have seen it all – from the bottom rung to the Boardroom. They have operating experience across 20+ industries, from large corporations to small startups, in many male-dominated industries. They bring unparalleled insight into inclusive leadership and work culture.
More information can be found at https://thebandofsisters.com
LinkedIn: https://www.linkedin.com/company/band-of-sisters/
Instagram: the_band_of_sisters