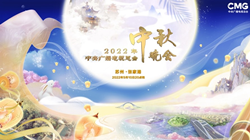 WASHINGTON (PRWEB) September 09, 2022
CGTN America releases CMG Mid-Autumn Festival Gala – Saturday, September 10 at 8:00 p.m. CST (China Standard Time)
China Media Group invites you to its prime-time gala celebrating the Mid-Autumn Festival – China's second most important holiday.
The broadcast will use cutting-edge technologies to transport viewers to exotic locations like China's ancient "water towns" – with their tranquil canals, stone footbridges, and centuries-old buildings.
CMG Mid-Autumn Festival Gala are scheduled at 8 p.m. CST (China Standard Time), Saturday, September 10.
The event will showcase Chinese culture – song, dance, orchestral music, and "Xiqu" – traditional Chinese opera, interspersed with comedy sketches.
The 3,000-year-old festival celebrates the fall harvest and is linked to lunar cycles. The ancient Chinese observed that the moon is fullest mid-month and brightest in mid-Autumn. It is a time for family reunions, featuring mooncakes – filled pastries that are round like the moon.
The gala promises to be a feast for the eyes. Hosted from Zhangjiagang, Suzhou in east China's Jiangsu Province, the television and radio broadcasts will highlight Suzhou, while drawing attention to China's rich and diverse cultures. CMG sent its special "outside broadcast" (OB) vans across China. Equipped to send 4K/8K UHD signals, these same vans helped bring the sizzle and spectacle of Beijing's Winter Olympics to homes around the world.
For communal viewing in China, CMG has installed about 270 large UHD screens in nearly two-dozen municipalities and provinces, including Beijing, Shanghai, Chongqing, Guangdong, Fujian, Zhejiang, Sichuan, Shandong, Jilin, and Liaoning.
CMG will stream the gala on social media platforms worldwide.
FOR IMMEDIATE RELEASE. (This material is distributed by MediaLinks TV, LLC on behalf of CCTV. Additional information is available at the U.S. Department of Justice, Washington, D.C.)