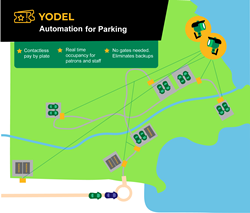 Yodel Automation's digital pass solutions for parking provide ability to eliminate backups, message patrons, and simplify enforcement.
NEW YORK (PRWEB) September 19, 2022
Yodel Pass today announced Yodel Automation for parking, a new contactless digital solution for unattended parking that removes entrance congestion, reduces cost, and simplifies enforcement. By deploying Yodel Automation, vehicles can enter the parking lot without stopping since automated cameras with License Plate Reading (LPR) technology capture the license plates as vehicles enter or leave the parking lot. Patrons pay by plate when they reach the parking lot using their mobile devices, roving ranger or kiosk. Unpaid vehicles are visually flagged on a mobile application used by enforcement.
"Yodel Pass has provided digital pass solutions for the parking and admission market that have significantly improved the experience of our clients and their patrons," says Tony Alex, President at Yodel Pass. "We believe that Yodel Automation will further improve the parking experience by removing backups at busy large parking lots and by adding capabilities not possible with plastic or paper cards, such as patron messaging and a simplified enforcement process."
Features and benefits of Yodel Automation include:

Ability to be used with a various payment methods including, hourly, daily, seasonal, annual passes and for special event parking
Staff spends less time on enforcement by using a list that identifies unpaid vehicles by color and license plate. Automated citation options are available.
Patrons can be messaged via their mobile devices, for example with a reminder that their parking pass is expiring.
Both congestion and cost are reduced since entrance gates can be completely removed. Also, there are no plastic hang tag or paper ticket printing costs.
Yodel Automation for parking is available now. For more information, visit Yodel Automation.
About Yodel Pass: Yodel Pass provides innovative technology to improve the patron and management experience for passes, memberships, and admissions. The company offers a contactless fraud-proof digital suite of products that can be used for admission with the unrivaled ability to handle all rate or membership classifications. California State Parks and Massachusetts Division of Conservation & Recreation have experienced the benefits of Yodel Pass.