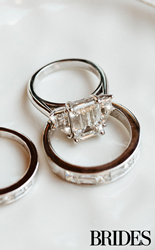 "Ive known the Giantto's for over ten years and their family values are everything I believe in.Working with them to create an Engagement ring which was fit for a Princess was such an amazing experience. Vanessa was overwhelmed when I proposed! The ring is so beautiful"Nicholas Villela Hardy
LOS ANGELES (PRWEB) September 16, 2022
The couple are so in love and wanted the ring to truly represent there past, present, and future together so they went for the classic 3 stone setting.
2.95 CARAT EMERALD CUT LAB DIAMOND CENTER G COLOR VS1 CLARITY WITH .50 EACH TRAPAZOID SIDES SET ON 14K WHITE GOLD.
As of 2018, the Federal Trade Commission (FTC) considers both lab-grown and mined diamonds to be real and ever since the popularity of them have sky rocketed and so many couples now are specifically now requesting them. The only difference between the two is point of origin. Unlike a mined diamond, a lab-grown diamond has guaranteed origin.
The naked eye cannot tell the difference between a lab-grown and mined diamond. Most trained gemologists cannot tell the difference between a polished mined diamond and a polished lab-grown diamond without using advanced technology— traditional methods and machinery cannot tell the two apart.
https://www.brides.com/exclusive-vanessa-villela-nick-hardy-wedding-6561153
https://people.com/lifestyle/see-selling-sunset-star-vanessa-villela-and-fiance-nick-hardys-romantic-engagement-photos/
https://www.giantto.com/engagement.php
For further information on Giantto, please visit http://www.giantto.com. Or call 1-877-GIANTTO.