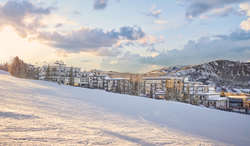 SNOWMASS, Colo. (PRWEB) September 19, 2022
Following a multi-million-dollar renovation, Viewline Resort Snowmass has officially joined Autograph Collection Hotels – Marriott Bonvoy's diverse and dynamic collection of independent hotels championing individuality. In partnership with High Street Real Estate Partners, RGP Partners, ACRON Real Estate Investments, and Davidson Hospitality Group, the premier ski-in/ski-out Snowmass resort re-introduces itself as a slopeside sanctuary with modern alpine charm and unforgettable guest experiences.
"We're thrilled to be introducing our newly-renovated, four-star resort and the iconic Snowmass Village to the Autograph Collection Hotels family," said Bob Jensch, regional vice president resorts division, Davidson Hospitality Group. "Our unique, mountainside experience embodies the brand's philosophy of handpicking hotels for their originality and passion in every expression, and we look forward to showcasing that to both new and returning guests in time for this year's winter ski season and beyond."
Located in the heart of Snowmass Village, Viewline Resort Snowmass, Autograph Collection provides the highest quality ski-in/ski-out experience in the region and is easily accessible through direct flights from 10 of the nation's major cities. Primed as the ideal family-oriented, multi-season vacation destination, the mid-mountain resort offers 254 guest rooms including 20 suites; Lupine Spa, a full-service Ayurvedic wellness destination; and one-of-a-kind amenities, including a private ski and bike concierge, heated mountainside pool with sundeck and terrace, onsite fitness center, and 24,000 square feet of combined special event space at the resort and adjacent Viewline Event Center.
Elevated culinary staples – created in partnership with RING on HOOK and Davidson Restaurant Group – include signature restaurant Stark's Alpine Grill serving innovative American fare in a cozy, tavern-inspired setting; the après ski cocktail destination Lobby Bar; and an independent coffee house, First Chair.
Debuting alongside its new Autograph Collection designation, the resort will introduce new programming to its Lupine KidZone, an all-seasons kids club for aspiring adventurers ages five to 12, family movie nights in its private screening room, a new oxygen bar at Lupine Spa, and more – all in time for the 2022-2023 winter season.
Viewline Resort Snowmass, Autograph Collection will participate in Marriott Bonvoy – the award-winning travel program from Marriott International – allowing members to earn and redeem points for their stay at the new hotel, and at other hotels and resorts across Marriott Bonvoy's extraordinary portfolio of brands. With the Marriott Bonvoy app, members enjoy a level of personalization and a contactless experience that allows them to travel with peace of mind.
For more information, visit http://www.viewlineresortsnowmass.com. Follow along for updates on Instagram: @viewlineresort, and on Facebook: @viewlineresort.
About Autograph Collection® Hotels
Autograph Collection Hotels advocates for the original, championing the individuality of each of its over 265 independent hotels located in the most desirable destinations across 45 countries and territories. Each hotel is a product of passion, inspired by a clear vision, soul, and story that makes it individual and special: Exactly Like Nothing Else. Hand-selected for their inherent craft and distinct perspectives on design and hospitality, Autograph Collection properties offer rich immersive moments that leave a lasting imprint. For more information, please visit http://www.autographhotels.com, and explore on social via Instagram, Twitter, and Facebook to be inspired by immersive moments that are #ExactlyLikeNothingElse. Autograph Collection is proud to participate in Marriott Bonvoy®, the global travel program from Marriott International. The program offers members an extraordinary portfolio of global brands, exclusive experiences on Marriott Bonvoy Moments and unparalleled benefits including free nights and Elite status recognition. To enroll for free or for more information about the program, visit marriottbonvoy.com.
About Davidson Resorts
Davidson Resorts, a highly specialized operating vertical of Davidson Hospitality Group, features some of the world's most respected and celebrated resort veterans that are deeply ensconced in the space and truly understand the nuances of the resort market, from seasonality to recreational programming and human resources. With a focus on complex, high-touch assets, the portfolio is comprised of large-scale, seasonal properties with multiple food & beverage outlets, retail, leisure activities like golf, spa, ski, water sports and more. For more information, visit http://www.davidsonhospitality.com/davidson-resorts. Follow us on Instagram: @davidsonhospitality and Twitter: @DavidsonHospGrp. Like us on Facebook: @DavidsonHospitalityGroup. Connect with us on LinkedIn: @DavidsonHospitalityGroup. #DavidsonResorts
About High Street Real Estate Partners
With over $1 billion in assets under management, High Street Real Estate Partners ("High Street") is focused on developing and acquiring equity interests in high-quality, well-located assets across the hospitality, multifamily, office, retail, and land asset classes. Currently, High Street's assets are located in the United States' premier destination markets: Nashville, Denver, Charleston, Aspen/Snowmass, Seattle, New York City, and coastal Florida. By understanding market fundamentals, partnering with like-minded capital, collaborating with experienced operators, and aggressively asset managing our properties, High Street has developed a track record of value creation throughout the market cycles. High Street's assets may involve renovations, repositionings and/or brand re-flaggings to meet return objectives and maximize asset value.
About RGP Partners
RGP Partners is an affiliate of Ajax Holdings, an opportunistic, private investment company founded in 2012, with offices in Aspen, CO and New Orleans, LA. We are primarily focused on real estate investment, new construction, redevelopment, brokerage and management of commercial, residential and hotel properties in selected niche markets throughout the US. On a selective basis, we will consider investing in industries adjacent to our core focus on real property. We aspire to identify opportunities, create partnerships and provide leadership that result in successful business ventures and enriching work environments. We are also committed to improving the social fabric of the communities where we invest through financial support of various non-profit groups and programs. In pursuing this mission, we will create long-term increasing value for our owners, employees, clients and the communities we serve.
About ACRON Real Estate Investments
Founded in 1981, ACRON Real Estate Investments ("ACRON") is headquartered in Switzerland and the United States with business entities in Luxembourg, Germany and Brazil. ACRON offers the advantage of first-class assets, trophy properties and prime projects in the world's safe havens. Internationally minded, ACRON combines its global expertise with local presence in the most stable real estate markets. As of January 2020, the company's transaction volume in Switzerland, Europe and, in particular, the USA, amounted to over $2 billion. The ACRON Group has a decades-long presence in the U.S. and many years of experience with hotel investments in the U.S. and Europe. ACRON's hotel portfolio in the U.S. includes the Kimpton Overland Hotel in Atlanta, which is located directly next to the headquarters of Porsche Cars North America, including the Experience Center, as well as "The Sable" Hotel which is located on the world-famous Navy Pier in Chicago and has already caused a stir with numerous awards.