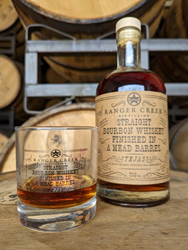 CEDAR PARK, Texas (PRWEB) September 22, 2022
Ancient Greeks dubbed mead the "nectar of the Gods." It is a fermented combination of honey, water, fruits, and spices. Rarely aged in oak barrels makes finding a used barrel difficult. After a year of searching, Austin, TX-based Meridian Hive had one. A gem of a barrel, French oak that aged, fermented orange blossom honey and red wine grapes. Perfect for Ranger Creek's bourbon and our second Tejas Collaboration. Bourbon finished in a mead barrel!
The bourbon spent a year and a half in new oak barrels before aging twelve more months in the mead barrel. Producing light honey and brown sugar characteristics balanced with cherry and sour apple.
Our second Tejas Collaboration with Ranger Creek totaled 288 - 750ml bottles. Available only through Ranger Creek's tasting room starting on September 24th. The bottles retail for $65.
We're happy to jump on a quick phone or zoom call to answer any questions about the Tejas Collaboration, Ranger Creek, or Texas Whiskey Festival. For interviews and questions, contact Jake Clements at media@txwhiskeyfest.com.
Tejas Collaboration Series
Tejas, the Spanish spelling of the ancient Caddo word for "friend" or "ally," is a collaboration between the festival and various Texas distillers to create unique offerings that showcase their methods and character. Each bottling will be a limited release available only through the respective distiller.
Tejas came to embody the character of the weathered and resilient settlers who saw the wide-open west as their destiny. This series pays homage to their intrepid resolve by bringing together our favorite Texas distilleries in a spirit of friendship that exemplifies the pride we take in proclaiming, "We are Tejas!"
About the Texas Whiskey Festival
The mission of the festival is simple: To help promote and enhance the brands of the many great distilleries throughout Texas. We want to educate whiskey lovers about the whiskeys being produced in our great state - and we're doing it all while having fun, drinking great whiskey, and building memorable experiences. As an organization, we know that Texas has some of the best distilleries and whiskeys in the world. The Texas Whiskey Festival is an opportunity to showcase that. For more information, please visit https://txwhiskeyfest.com.
About Ranger Creek Brewing and Distilling
Ranger Creek is San Antonio's award-winning brewstillery, handcrafting beer and whiskey with lots of love, attention, and Texas attitude. Ranger Creek Distillery makes award-winning Texas bourbon, single malt and rye whiskey. Grain-to-glass spirits made in small batches using Texas ingredients. Visitors to San Antonio are encouraged to sign up for one of their regularly scheduled tours and come by for a visit. For more information visit http://www.drinkrangercreek.com