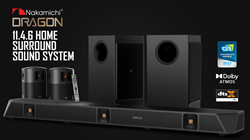 Besides over-delivering on every conceivable technical dimension, the new 11.4.6 Dragon provides fuss-free wireless installation, flexible placement options and an attractive price-to-performance proposition, making it the paragon of surround systems for years to come.
SAN JOSE, Calif. (PRWEB) January 04, 2023
DRAGON SIGNIFICANCE IN THE AUDIO INDUSTRY
From the legendary Dragon Cassette Deck (1982) to the Dragon Turntable (1985) and Dragon CD Player (1996), these legendary products changed the audio industry completely. With a cult-status brand reputation that is supported by connoisseurs and collectors alike, the Nakamichi Dragon badge represents unprecedented technological breakthroughs and audio performance. Half a decade ago, our team embarked on a journey to build a revolutionary audio product that would live up to the legacy of Dragon. After 5 years of extensive research and development efforts, Nakamichi is proud to announce the timely return of the Dragon with a revolutionary 11.4.6 surround sound system for our 75th anniversary.
3 KEY ENGINEERING PILLARS
As we relentlessly pursued our dream of bringing a state-of-the-art theater into every home, the fundamental design philosophy of the 2023 Nakamichi Dragon was structured by these key pillars:
1. Delivering an authentic three-dimensional home cinema experience
2. Seamless integration in any room environment
3. Setup time of less than 15 minutes
This system embodies the best of both worlds, possessing both the form factor and simplicity of a soundbar, while incorporating the premium acoustic elements of an elite theater setup. A world-class home entertainment experience is now achievable by consumers within minutes.
DESIGNED TO TRANSCEND BOUNDARIES: THE NAKAMICHI DRAGON 11.4.6 HOME SURROUND SOUND SYSTEM IS THE BENCHMARK OF SURROUND SOUND SYSTEMS
Nakamichi Dragon is the world's first wireless surround sound system engineered with 21 channels, by far the most advanced configuration in the market. Our state of the art cinema system can render Dolby Surround formats (Dolby Digital Plus, Dolby TrueHD and Dolby Atmos, etc.) identical to high end audio video receivers, delivering the same granular detail and positional precision as a movie theater. This system redefines surround sound for home theater and instantly transforms any room into a live concert or cinema experience.

Dolby Atmos and DTS:X Pro
The 11.4.6 channel surround architecture is a first of its kind, unmatched by even top end audio video receivers. Nakamichi collaborated closely with the engineering team of DTS to become the first in the world to enable DTS:X Pro technology in a plug-and-play home cinema. DTS:X Pro brings the capabilities of the commercial version of DTS:X to your private theater. In addition, audience members can also feel every dimension of Dolby Atmos with spatially moving objects that flow simultaneously above and around one's private space.

The main unit components of the Dragon system have been strategically embedded into a bold and distinctive 58" stainless steel chassis, a design that is ravishing to behold. Each speaker channel has its own dedicated chamber for unadulterated audio reproduction. The system replicates a cinema-like soundstage while enhancing the visual richness of a 60" or larger HDTV, resulting in a larger than life, immersive experience.
The side, rear, and height surround channels have been integrated together to form the world's first wireless 3D Omni-Motion Reference Surrounds, delivering astonishing sonic detail in any space, even for less-than-ideal room environments.
Back in 2017, Nakamichi disrupted the industry by pioneering a dual subwoofer configuration for its soundbar systems. With Dragon, 4 subwoofers are embedded into 2 cabinets via an isobaric configuration, a solution that outputs more explosive bass without taking up more space. This formation unlocks maximum potential kinetic energy output for the same air volume, reproducing even the deepest low frequencies with authority. This quad subwoofer design is a truly impressive creation that delivers bass unlike anything else on the market.
Other than tonal and crossover adjustments, the bass experience can be further managed based on user preference as the 4 subwoofers can be individually activated or disabled.
Air Motion Transformer (AMT) Tweeters
The Dragon system has 7 exposed Air Motion Transformer (AMT) tweeters that reproduce an incredibly smooth, detailed, and dynamic soundscape. These high-performance electroacoustic transducers replicate the atmospheric sound stage with captivating clarity, transporting the audience into the center of the action.
Omni-Motion Reference Surrounds
These surround speakers are designed to deliver well-conceived sound effects of the side, rear, and height channels coming from all directions. Weighing at almost 9 pounds per speaker, each unit is designed in a bipolar configuration with 3 three-inch speaker drivers and 2 AMT tweeters. These reference surrounds can deliver breathtaking surround effects with pinpoint accuracy, enveloping the audience with amazing clarity that will stimulate all senses.
Meet the world's first soundbar system with 6 upfiring channels and PerfectHeight Mechanism. Regardless of position relative to the system, you will be awed by a visceral experience of lifelike, hyper-dynamic 3D objects floating all around you. Dual-angled upfiring speakers on the main Dragon unit are independently inclined at 10° and 20° angles, rendering vertical and overhead sound objects at precise height levels to depict the true perception of a multi-altitude soundscape.
The Omni-Motion Reference Surrounds all feature an individual 3-inch upfiring driver at the crown of each speaker. With most upfiring surround speakers, placement options are limited to create the perfect sweet spot. For example, when surrounds are mounted on the back wall, the vertical speaker is firing at the TV rather than the seating area; thereby yielding a subpar overhead experience. In other words, the best 3D surround experience can only be achieved by specific surround speaker placement options. Equipped with the patented PerfectHeight Mechanism, the Dragon's bipolar surround speakers have upfiring drivers that can be rotated up to 180 degrees to accommodate any environment, giving them an optimal angle regardless of room shape and seating position. They work in tandem with the quad upfiring speakers in the main unit to engulf the entire room with multi-layered overhead effects. Complementing the hardware, Nakamichi's proprietary Adaptive Height Dispersion (AHD) processing technology allows listeners to further customize height effects to their personal preference with the convenience of a press of the remote.
Composed of a groundbreaking architecture encompassing a combination of 15 digital amplifiers and a peak power output of 3000W (125dB), Dragon possesses incredible firepower to unleash cinema quality audio effortlessly. The unique amplifier layout gives Dragon the flexibility to dynamically tailor its channel mapping and surround intensity level to the type of audio being played for optimal listener experience, no matter the genre or number of channels the content uses.
This journey of building a revolutionary audio product that would live up to the legacy of Dragon has now been completed. Besides over-delivering on every conceivable technical dimension, the new 11.4.6 Dragon provides fuss-free wireless installation, flexible placement options and an attractive price-to-performance proposition, making it the paragon of surround systems for years to come.
PRE-ORDER INFORMATION
Pre-orders for the Dragon 11.4.6 Home Surround Sound System will open in Q2 2023 with a tentative MSRP of $3499. For more updates on the 2023 flagship, register your interest at dragon.nakamichi-usa.com.
NAKAMICHI NAMED AS CES 2023 INNOVATION AWARDS HONOREE
The Nakamichi Dragon 11.4.6 Home Surround Sound System earned its first accolade as a CES® 2023 Innovation Awards Honoree. The CES Innovation Awards program, owned and produced by the Consumer Technology Association (CTA)®, is an annual competition honoring outstanding design and engineering in 28 consumer technology product categories. An elite panel of industry expert judges, including members of the media, designers, engineers and more, reviewed submissions based on innovation, engineering and functionality, aesthetic and design.