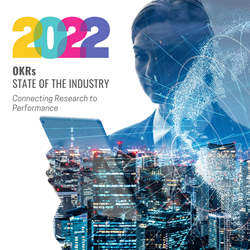 Poor Leadership is found to be a major cause for Goal Setting & Execution to fail.
DUBAI, United Arab Emirates (PRWEB) January 02, 2023
More and more organisations across the world are waking up to the power of OKRs (Objectives and Key Results). While OKRs first started with software companies, even brick-and-mortar organisations are looking at using OKRs today. On the surface, OKRs seem to be extremely simple to understand. However, when it comes to implementing OKRs, it gets tricky. Simply reading a book or watching some videos on OKRs may not necessarily help here.
So why does a seemingly simple framework become so difficult to implement? Well, the answer lies in the fact that OKRs, as a framework, requires the right ecosystem to flourish. There are a host of factors that need to come together as a recipe for OKR Implementation to work within your organisation. And the difficult part is that this recipe is not the same for all organisations that are trying to use OKRs.
Symptoms of Poor OKR Implementation
So how do you know that your OKR Implementation is going astray? Here are some symptoms that act as tell-tale signs before it's too late for you to salvage your OKR Implementation program within your company.

Leadership Buy-in: You can be sure that your OKR Implementation program will take the wrong turn if your CEO/MD along with the key leadership team is not fully bought into the program.
Poor Communication of Rationale: Another symptom often seen is the lack of or insufficient focus on communicating the rationale and intent of the OKR Implementation program. When employees don't know why OKRs are being implemented, they are unable to contribute accordingly.
OKR Ham: Getting excited about OKR Implementation is good. When teams are over excited, you end up seeing more than 3 to 5 OKRs per cycle. This loses the laser focus OKRs are meant to bring.
Poor Review Discipline: This is another oft-observed symptom of OKR Implementation going wrong. It's easy to set OKRs, its 20% of the job. The real challenge lies in the OKR Implementation phase where teams are required to check-in on a weekly or fortnightly basis. When teams fail to meet as a discipline, the OKR Implementation process goes for a toss.
Breakdown in Progress Updates: Whether you use a software or simple google sheets doesn't matter. What matters is how often teams are updating progress during OKR Implementation. When you can see your teams are not doing this on the go, you can be certain that you are not leveraging the power of transparency that OKRs are meant to provide.
Absence of Strategy Linkage: OKRs are not a replacement of your company's strategy. They are a conduit to enable your strategy to yield results. When you see that the strategic intent is not clear, your OKR Implementation will be 'vanilla'. This is another symptom that your OKR Implementation process will not give you the desired results you are looking for.
Poor Psychological Safety: This symptom is connected to organisational culture. When you notice that teams are failing to stretch or report where they are failing, it results in creating a 'good news' culture within your organisation. Here, teams are constantly 'sandbagging' so as not to fail. This is a sign that your OKR Implementation will take a beating.
To understand some of the causal factors that lead to failure in OKR implementation, OKR International undertook a study from 1st January 2022 to 15th December 2022 covering respondents from more than two dozen industries, globally. Some of the findings from this study have produced insightful information that is crucial to OKR users around the world.
Of the 23 questions that were asked to nearly 2,500 respondents, a few have been listed below as a glimpse into the actual report.
1. A little more than 50% have named 'poor leadership' as the largest causal factor for OKRs to fail.
2. Almost 37% were found running OKR Check-ins once a month or once a quarter, instead of checking in weekly or fortnightly.
3. Instead of using OKRs for top strategic priorities, approximately 40% were found using OKRs for Business as Usual (BAU) Goals.
4. Nearly 50% said setting too many OKRs as goals was their biggest mistake.
While these statistics are just glaring parts of the report, understanding the entire report will provide a holistic view of causal factors that also act as levers for change. The 2022 OKRs State of the Industry Report brings you valuable inputs to assist with goal setting and implementation challenges. The OKRs State of the Industry Report (SOIR) is produced annually by OKR International Research. Download Full Report Here