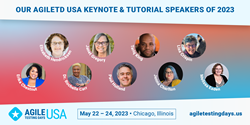 Extraordinary Speakers presenting at Tech Conference - Get your AgileTD USA ticket now!
CHICAGO (PRWEB) January 04, 2023
Hosted by trendig technology services GmbH from Berlin, Germany, the Agile Testing Days, part of the world's leading agile and software testing conferences, started their conference debut in 2009 and have since spread across continents. The events are best known for their highly professional and diverse programs as well as their open minded atmosphere and are an essential destination for global tech professionals offering a unique combination of agile methods, testing, and quality.
The US edition will take place for the fourth time, again with a top notch speaker line-up. From May 22 – 24, 2023, the US event opens its doors at the Hilton Oak Brook Hills Resort & Conference Center in Chicago/IL. The event starts off with a day of six different full-day workshops, the so-called tutorial day, which is followed by two conference days. The conference itself features nine keynotes, five parallel tracks with talks, workshops, bonus sessions, as well as social evening events and a variety of networking opportunities.
"We are proud of the again terrific line-up of tech professionals, who will impress our attendees with a diverse program, expert knowledge and tools to take back to work with them to succeed. We will continue growing one of the most diverse, collaborative, and energetic communities in the world — a safe place to share ideas, evolve professional and personal skills and to increase the performances of your organisation." said José Diaz, founder and CEO of trendig, founder of the Agile Testing Days, and member of the Board of Directors of the Agile Alliance.
THE FULL PROGRAM: agiletestingdays.us/program/
EVENT REGISTRATION: agiletestingdays.us/register/
Super Early Bird tickets are available until February 28, 2023.
GET HANDS-ON TRAINING FROM INDUSTRY LEADERS
On Day 1 hands-on tutorials are on the agenda. There is a choice of six different tutorials, putting particular emphasis on immediate practical value. The high-quality content of the tutorials is based on intensive practical experience. The full-day tutorials will be given by industry experts such as Elisabeth Hendrickson, Jenna Charlton, Lisa Crispin & Janet Gregory, Tariq King, Melissa Eaden, and Paul Holland.
The topics on offer are:

Engineering Leadership by Elisabeth Hendrickson
Back to Basics: Fundamental Test Skills by Jenna Charlton
Holistic Testing: Effective Strategies for Agile Teams by Janet Gregory & Lisa Crispin
Breaking into AI and Machine Learning by Tariq King
Research For Technologists by Melissa Eaden
Face it. Your Test Reports Suck by Paul Holland
You work in interactive and dedicated groups to achieve maximum learning. The tutorials are situational. You can ask questions about how you should handle certain situations and immediately get tips and tricks as well as structured approaches to solve current problems at your daily work.
WHO should participate? AgileTD USA welcomes all software architects, test analysts, test managers, software testers, test advisors, test specialists, test practise managers, test environment analysts, CEO's, CIO's, IT directors, IT managers, test designer, test team leaders, test consultant, program testers, quality directors, product owners, Scrum Masters, decision makers, team leaders, project managers, consultants, head of quality assurance, developers, coaches and trainers. No matter your role, you will get immediate inspiration on current agile testing and QA management topics.
EXHIBIT at AgileTD USA Position your company alongside those paving the way in the agile testing industry. The Agile Testing Days USA are the best choice if you are interested in maximising your visibility and brand recognition. Connect with a highly qualified audience of testers, managers, team leads and decision makers and proudly present your IT products, software solutions and agile services.
For more information on this conference, please visit the Agile Testing Days USA website,
About trendig technology services GmbH: trendig is a technology services company, founded in 1998 as Díaz and Hilterscheid Unternehmensberatung GmbH, which produced three magazines, seven conferences series, and provides top-notch training and consultancy around the world. For more information, visit https://trendig.com.