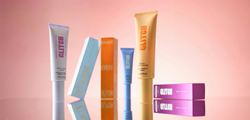 New York, NY (PRWEB) January 10, 2023
Today GLITCH™, a new Gen Z skincare brand announced its launch and debut of its first ever product line, a trio capsule collection with dual-action formulas that prevent early signs of aging and blemishes for breakout prone skin. The multi-functional, clean and scientifically-backed skincare line features daily AM and PM serum-moisturizer hybrids and a weekly exfoliating mask to leave skin looking youthful, hydrated and blemish-free.
"GLITCH was created to celebrate life's imperfections and offer Gen Z a skincare routine that's simple, effective and honest," according to Michelle Weden, Head of Product Innovation and R&D at GLITCH. "We've all seen our fair share of GLITCHes and have spoken with thousands of Gen Z consumers about theirs. Partnering with best-in-class chemists and leveraging consumer feedback, we created efficacious products with clean ingredients that work cohesively to make fighting blemishes and early signs of aging simple and clean."
Designed for a Gen Z audience who is redefining beauty and self expression, GLITCH embraces inclusivity, self-acceptance and honesty. All products in the capsule collection are vegan, cruelty free certified, include plant-based ingredients and have packaging made from recycled and recyclable materials. They are also dermatologist tested and approved, safe for sensitive skin, safe for all skin types and free from fragrances, parabens, dyes, phthalates, silicones and alcohol. To further destigmatize imperfections, GLITCH features diverse models, who also experience skin complications, in unfiltered images.
"I've seen first-hand with my patients that a good skincare regimen needs to be simple, gentle and holistic, combining mind, body and emotion," said Dr. Terry Loong, Integrative Skin & Hormone Doctor and GLITCH's Skincare Expert. "High quality products that strengthen, maintain and protect the skin barrier combined with nourishing and nurturing practices can make a lasting impact on hormonal skin and inner confidence. I'm thrilled to partner with GLITCH as they align with my commitment to provide simple and accessible skincare solutions to help others feel and look their best."
GLITCH launches with three effective and multi-purpose products that treat blemishes and prevent early signs of aging all-in-one. Products can be purchased separately or as a bundle for even more value and ease.

AM Hybrid Treatment (1.7 fl. oz.): A supercharged 2-in-1 serum + moisturizer with Hyaluronic Acid, Niacinamide, Pink Rock Rose, Squalane, Vitamin C and Vitamin E treats blemishes and helps reduce the appearance of fine lines and wrinkles to brighten and hydrate the skin. (MSRP: $29.99)
PM Hybrid Treatment (1.7 fl. oz.): This velvety 2-in-1 serum + moisturizer featuring Ceramides, Hyaluronic Acid, Pink Rock Rose, Allantoin, Squalane, Vitamin A and Vitamin E works overnight to hydrate the skin and boost elasticity. (MSRP: $29.99)
Weekly Exfoliating Mask (1.7 fl. oz.): A transformative weekly treatment with Glycolic, Salicylic, Asiatic and Madecassic Acids, Niacinamide, Pink Rock Rose and Squalane helps resurface the skin and pores while also addressing fine lines and wrinkles. (MSRP: $24.99)
The Regimen Bundle: This bundle features the AM Hybrid Treatment, PM Hybrid Treatment and Weekly Exfoliating Mask. (MSRP: $74.99)
GLITCH believes that mind and body work together when it comes to self care, which is why every product contains Pink Rock Rose, an organic desert plant known for decreasing stress-related signs of aging to create more calming and smoothing skin.
GLITCH's skincare line is available for purchase now on glitchskin.com and Amazon.
About GLITCH
GLITCH is a new skincare brand for the next generation fighting against blemishes and early signs of aging. Unlike traditional 'anti-aging' products, GLITCH's innovative and scientifically-proven hybrid formulas are designed for younger, breakout prone skin. Created for a Gen Z audience, who is redefining beauty and self expression, GLITCH believes that beauty exists in our flaws. Everything is temporary, so Enjoy Every Glitch. For more information, visit glitchskin.com and follow on social media @glitchskin.