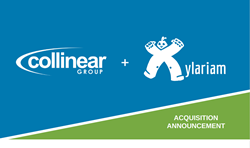 SEATTLE (PRWEB) January 10, 2023
Collinear Group LLC, a Seattle based aerospace & defense engineering and consulting company has acquired Xylariam, LLC, also headquartered in Seattle Wa. Xylariam is a digital solutions company specializing in strategy, design, and development of modern software applications and platforms for enterprises and startups alike. "Xylariam has been a long trusted strategic partner of ours", stated Saul Bankaitis, CEO of Collinear Group, LLC. "The synergies of adding cutting-edge digital capabilities to our portfolio of solution offerings will significantly enhance our ability to accelerate our aerospace and defense customers' digital transformation and new product development initiatives".
Xylariam has been adding to their portfolio and boast a robust start-up scoreboard, many of which are found in the aerospace industry, "The need to innovate and re-imagine is greater than ever, especially in a vertical like Aerospace", said Xylariam Founder Andrew Hosch, "but even more importantly we need to be creating on a strong foundation like that of Collinear Group."
Collinear Group brings intelligence and technology to challenges unique to engineering, manufacturing and certification, while Xylariam brings a strategic digital energy which when combined with the companies' shared close relationship will bring the best of each to the aerospace and defense industry.
Alexander Hutton, a leading Northwest middle-market M&A advisory firm, served as the exclusive financial advisor to Collinear Group.
About Collinear Group LLC - For more than 10 years, Collinear Group has been committed to being a market leader in providing innovative advisory, engineering, and digital solutions across the entire value chain of the aerospace and defense industry. From design and certification, to manufacturing and aftermarket operations - Collinear Group's unique blend of fast-track innovation, digitally integrated methods and regulatory experience has proven critical for today's complex and competitive aerospace and defense market.
About Xylariam LLC – Founded to fill a gap in how software projects are sourced and executed, Xylariam's model leverages long-standing relationships with an international network of partners to deliver purpose-built software solutions. Xylariam's goal is to take the risk out of software development and help enterprise companies get ideas launched from prototype into production. Their methods and global footprint have a proven history of new product development and digital transformation success at startups to Fortune 50 companies.
###
Headquarters
707 South Grady Way, Suite 525
Renton, WA 98057
206.408.4402