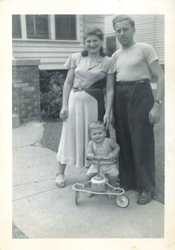 "We will not tolerate the current vitriol spewed by public figures in the media, now or ever," said Jerry Guttman, son of holocaust survivors Irving Guttman and Rosie Polkenfeld.
PHOENIX (PRWEB) January 09, 2023
More and more people are feeling emboldened to publicly express antisemitic tropes. The Anti-Defamation League received 2,717 reports of antisemitic assault, harassment, and vandalism in 2021, 34% more than the previous year and the most since the organization began documenting such crimes more than 40 years ago. That is why Jerry Guttman and his extended family have created a movement through the website, Our Holocaust Story, to counteract prejudice by educating others about their own family's Holocaust survival experience and offering a platform for others to do the same.
"We will not tolerate the current vitriol spewed by public figures in the media, now or ever," said Jerry Guttman, son of Holocaust survivors Irving Guttman and Rosie Polkenfeld. "The intention of this project is to humanize a historical event that went out of its way to disparage those who were affected by it. Through the perspective of individuals who were there, history may be more easily understood. It's important to get to know my parents Rosie and Irving for this reason."
Our Holocaust Story recounts the individual experiences of Irving and Rosie on a chronology that spans pre-, during-, and post-World War II. Before the conclusion of WWII, Irving and Rosie were strangers. As Jews living in war-torn Poland and Romania, they would never have met if they hadn't done everything they could to live on their own, in their respective wars.
Irving and Rosie amassed a treasure of documents and images illustrating the atrocities they endured and the fresh start they were granted in the United States, from concentration camps through their final departure. Our Holocaust Story includes this comprehensive repository of key records that were critical to chronicling their stories. As Jerry points out, the choir grows louder as more people join it. Every narrative has value and that's why the project provides a forum and a secure environment for people to share their personal stories as well as their testimonies of survival.
"We believe that it is imperative at this time to educate the public and to offer a safe environment for storytelling, empathy, and engagement," said Guttman. "This one man and woman are only two verses in a much longer song, but their experiences and survival shed significant light on the brutality of war, the unspeakable miseries of genocide, and the optimism that comes from understanding and making a life on the other side of it all. We hope that by sharing their experiences, others will be inspired to share their own so that we can all be heard."
For more information, please visit https://ourholocauststory.com/.