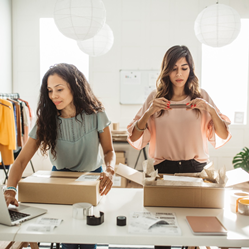 "We are constantly looking for ways to improve the user experience, and incorporating technology into our platform is just one of the ways we are doing that.
CHATTANOOGA, Tenn. (PRWEB) January 11, 2023
CreditHub® wins the "2022 City's Best Award" as a full-service digital financing platform for businesses. The award was given because of the company's robust and smart lending platform. Businesses needed a tool to speed up the funding process, make it easier for businesses to get funding, learn about the owners' needs, and help them get back to making money.
In addition to its business funding and credit monitoring services, CreditHub also offers resources for research, learning, counseling, and collaboration through workshops and panels. The company's goal is to help businesses succeed by providing them with access to finance at competitive rates and helping them appeal more effectively to investors and lenders. To enhance the user experience, CreditHub has also incorporated smart technology into its platform.
During the COVID-19 pandemic, CreditHub was able to help businesses by giving them free Economic Injury Disaster (EIDL) loans. These services were essential for businesses in need of capital to continue operating during the extraordinary circumstances of the past two years. And last year, offering embedded finance solutions, expanding the variety of programs available, and offering real-time data all contributed to enhancing the productivity of business owners' time.
Although always important, these resources are now more crucial than ever. With CreditHub's help, many businesses were able to keep going even though they were having unusual problems. This is because businesses have been having unusual problems over the last two years.
Even in normal times, entrepreneurs have a lot to deal with, like the difficult task of getting money to grow. Entrepreneurs have had to figure out how to get through a pandemic and now a recession, which has been a difficult task. The CreditHub team upgraded its technology in order to educate the business community and shorten the time it takes them to improve their fundability.
Both traditional and nontraditional funding sources experienced a rapid shift in corporate capital acquisition methods. CreditHub has professionals who are ready to help both small and large businesses get qualified. The group has also collaborated with businesses by giving minority, female, and veteran-owned firms access to grants and funding.
CreditHub® Finds Fulfillment by Serving Partners and Customers
We improved ties inside the community, providing free avenues for research learning, counseling, and collaboration through cohorts, and brainstorming workshops. Listening to both our lenders and borrowers allows us to build better bridges and communities. By doing this, we found ways to talk to each other about our successes and problems.
CreditHub® was started in 2012 as a platform for business owners and investors. It has won many awards for its great customer service. Some of our specialties are the following: commercial real estate worth $20 million and under; new franchises under $100,000; business acquisitions and working capital under $350,000; and well-known big box brands.
CreditHub has grown over the past 10 years into a full-service digital lending company with a large network of lenders. Our integrated software gives businesses an edge in the market so they can better attract investors and lenders. Our clients have more confidence due to the "teach a man to fish" attitude, and there are more finance possibilities available at lower rates. Our highest honor is assisting businesses in their success.
Innovative and Modern Financial Services
CreditHub is renowned for its modern financial services, including:
AR/PO Finance
This is a different type of funding than a conventional business loan. Selling unpaid invoices or other receivables at a discount to a factoring or finance company, which then bears the risk on these goods and gives your company rapid cash in return, is known as AR financing, or accounts receivable financing.
PO (Purchase Order) is a loan or advance that is issued and is backed by purchase order or contract. The purchase order guarantees finance for the supplies required to produce, ship, and provide a service.
Commercial Real Estate
CreditHub® provides financing for commercial real estate in the $5,000–$20,000,000 range. Even if you are doing a cash-out refinance, this financing can be used for the acquisition or refinancing of real estate.
Equipment Financing
Programs for leasing and financing equipment are also available for new and established enterprises. It is possible to acquire equipment financing even with poor credit, and approvals can be granted in as little as 24 hours.
Revenue Finance
By paying your investors a portion of your future income, you can obtain crucial business cash through revenue-based financing. In revenue-based financing, investors receive repayment in the form of a predetermined percentage of the company's ongoing gross revenues, typically several times the original investment.
This financing option has a variety of advantages, such as no necessity for collateral, low credit standards, high loan quantities, and simple application with quick funding.
Business Line of Credit Funding
CreditHub® Business Credit Advisory offers working capital term loans in the amounts of $50,000 to $150,000 under the SBA 7a loan program. This gives you the best chance to obtain the most funding, at the best conditions.
Small Business (SBA) Loans
Secured Small Business Loans allow for very substantial capital amounts to be obtained by established enterprises having tax returns that demonstrate good revenues and profitability.
504 Loans
CreditHub assists marketing firms in finding practical answers to their credit or financing-related problems. They focus on providing complete business solutions that include financing or credit for your company.
Visit CreditHub® to find out more about how they can help you or your company overcome financial obstacles.
Once again, we are proud to be able to help companies facing the unique problems that come with pandemics and recessions by coming up with creative financial solutions.
The entire nation can use our services. The City's Best Awards is happy to collaborate with some of the top companies in US cities. It's not always a simple task to identify the leading companies in your neighborhood that can offer you the services you need most effectively.
Finding top-tier businesses can be done, for example, by visiting this website. Our goal is to associate with businesses that are among the very best in their industry in order for us to link customers with those businesses. Visit them here to learn more about the City's Best initiative.
"We are honored to receive this award and grateful for the opportunity to serve businesses in need," said Benjie Nunn, member of the Forbes Business Council and Managing Director of CreditHub. "Our team is dedicated to helping businesses access the funding they need to grow and succeed, and we are proud to have been able to make a positive impact during these challenging times." "We are constantly looking for ways to improve the user experience, and incorporating technology into our platform is just one of the ways we are doing that.