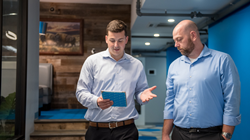 "The OML assessment was a pretty big investment but being in the place where we weren't sure where we stood technologically, it was imperative that we had access to an MSP that was proficient and could translate the terms for others in our company who lack this specialized knowledge." - Wendy Lavoie
MIDDLETOWN, Conn. (PRWEB) January 13, 2023
A new case study by Charles IT, the Northeast's cybersecurity and compliance expert, spotlights gains realized by manufacturer, Pearse Bertrum, after completing proprietary Operational Maturity Level (OML) Assessment. The manufacturer, once plagued with attempted phishing attacks, the looming threat of outdated hardware, and unknown security gaps in their IT infrastructure, now has a prioritized, 22-month IT planning roadmap that has led them to greater security, faster network speeds, and a substantially lower risk of hacking and phishing schemes. These are some of the quick wins experienced a few months into the partnership, with the real value of the OML assessment compounding over time.
Simply put, the OML is a process whereby Charles IT takes a 360-degree view of a company's IT environment and closely assesses where that company is vulnerable to security risks. It's a vital step to start off on the right foot with new clients. Just like a contractor inspects your home before renovating or a physician requires x-rays before performing surgery, you need to know what's going on in your IT environment before jumping into the repair process. Otherwise, you risk a cookie-cutter solution that may not be the best fit for your business and could cost you more in the long run.
Wendy Lavoie of Pearse Bertrum explains, "They identified things that we would need to work on three months from now, six months from now, and a year from now. They had this trajectory diagram that showed the steps to take to get us where we wanted to go, and it was very impressive…[and] eye-opening. We didn't realize it would be so detailed."
The OML assessment gave Pearse Bertrum a number of valuable takeaways.

Identified key system enhancements
Prioritized projects for optimal cybersecurity posture
Implemented changes that reduced monthly expenses
Introduced security awareness training for all users
Identified and removed credentials found on the dark web
"We are able to trust that Charles IT is on our side," Lavoie says.
Charles IT
Charles IT is the Northeast's compliance expert, headquartered in Middletown, Connecticut, with a second location in Stamford, Connecticut. As a managed service provider (MSP), Charles IT also specializes in compliance, including SOC 2, HIPAA, DFARS, CMMC 2.0, SEC, and NIST CSF, in addition to its IT support, security, and service offerings. With a human-first focus, Charles IT values knowing client teams just as much as knowing their technology, allowing the MSP to find the right solutions that take clients from functioning to flourishing.
Charles IT is a recent winner of the Marcum Tech Top 40, Best & Brightest Companies to Work For in the Nation, Hartford Business Journal Best Places to Work in CT, MSP 501, and Inc 5000 awards.