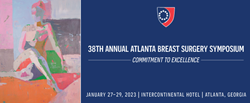 ATLANTA (PRWEB) January 19, 2023
The Southeastern Society of Plastic and Reconstructive Surgeons and Northside Hospital are hosting the 38th annual Breast Surgery Symposium from January 27th through January 29th, 2023 at the Intercontinental Hotel in Buckhead. This year three top surgeons from Atlanta Plastic Surgery, Program Chair James Namnoum, M.D., and Program Co-Chair Franklyn Elliott, M.D. and Jonathan Nguyen, M.D (board-eligible). will have prominent roles in the three-day scientific program.
The late Dr. Carl Hartrampf, the co-Founder of Atlanta Plastic Surgery, originated the three-day Breast Surgery Symposium in 1984. Since then the Symposium has grown to include nearly 500 registrants from 15 countries and has become internationally synonymous with innovations in reconstructive and cosmetic breast surgery. This year Dr. Robert J. Allen, M.D., Clinical Professor of Plastic Surgery at Louisiana State University, will deliver the Honorary Hartrampf Lecture on "The Marriage of Beauty and Blood Supply."
The Atlanta Breast Surgery Symposium's agenda will begin with live demonstrations of the most advanced surgical techniques transmitted from Northside Hospital to meeting attendees at the Intercontinental Hotel. Other live telecast surgeries will feature secondary breast augmentation with mesh and trans abdominal breast augmentation.
Dr. Nguyen (board-eligible) from Atlanta Plastic Surgery will assist in one of the Symposium's two live surgery telecasts. This telecast features gender affirming mastectomy by Dr. Loren Schechter, Director of Gender Affirming Surgery at Rush University Medical Center in Chicago, Illinois. Dr. Nguyen(board-eligible)is Atlanta Plastic Surgery's newest surgeon.
The symposium will also feature comprehensive panels discussing autologous fat grafting, prosthetic based breast reconstruction, and revisional breast surgery. Symposium panels will discuss current trends and techniques in breast surgery, breast implants, breast augmentation, mastectomy, oncoplastic surgery, and breast reconstruction. Other panels will discuss reduction Mastopexy, moderated by Dr. Elliott with a presentation by Dr. Namnoum on Mastopexy: Breast Transformation by a Comprehensive Approach. Dr. Elliott will also moderate a Breast Implant Panel.
About Atlanta Breast Symposium: An educational three day conference geared toward advancing the knowledge and skill of all aesthetic and reconstructive breast surgeons, the Atlanta Breast Surgery Symposium was formed in 1984 by the late Dr. Carl Hartrampf, co-Founder of Atlanta Plastic Surgery. It is hosted every January by the Southeastern Society of Plastic and Reconstructive Surgeons (SESPRS) and sets the precedence for breast surgery advancements. Visit sesprs.org for symposium details.
About Atlanta Plastic Surgery: Atlanta Plastic Surgery, P.C. was founded in 1968 by the late Dr. Carl Hartrampf. Our staff of surgeons have achieved international reputations in their specialties through published books, papers, lectures and live surgical demonstrations. Because each of Atlanta Plastic Surgery's physicians have different areas of concentration, they can provide unparalleled scope, expertise and specialization in cosmetic and plastic surgery procedures. For more information, visit their website at atlplastic.com.