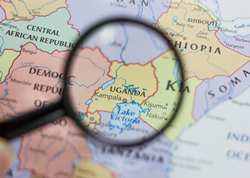 "Uganda is "uniquely advantaged," with globally resounding high-interest stories, thriving diaspora human resource pool, scenic landscape, and diverse climate, that are beneficial to the emerging film industry."
LOS ANGELES (PRWEB) January 19, 2023
His Excellency President of Uganda, Yoweri Kaguta Museveni, held a meeting with top government officials and film industry professionals at the recent US-Africa Leader's Summit in Washington, DC, last month, speaking on Uganda's commitment to promoting the nation's film industry and its importance in the areas of social and economic development. Highlighting the importance of proactive government support, President Museveni gave the directive to the Minister of Finance, the Honorable Matia Kasaija, to fast-track packages of non-cash incentives to strengthen Uganda's negotiating power and give a competitive edge when pitching for film projects or their financing.
Ugandan film industry partners and stakeholders attended the summit unveiling their plans for bolstering the local film industry and firming its foundation to support and attract foreign productions. Real estate developer Brian Kayongo is a part of a conglomerate in the development stages of building a state-of-the-art studio to attract foreign productions to Uganda, working alongside David Godfrey, the former Pinewood Group Director of International Operations and the 'go to' world expert for the designing, building, and managing of screen-based media facilities.
President Museveni expressed his unequivocal support, "Innovative ideas that lead to diversification of the economy and the widening of the tax base is my priority," he said while signaling that a "Film Office" be created at the global industry standard of a one-stop center under the Ministry of Gender, Labor, and Social Development to oversee the requirements to develop the industry and a committee to facilitate the transition by ensuring a swift film policy enactment.
Amid the summit, President Museveni was informed by the Ugandan film industry stakeholders that the economic synergies created by the film slate
could inject $150M in wages and service provision and a joint foreign investment effect of $1B in three years with ancillary benefits like capacity
building for the film industry and destination marketing of tourism sites.
"Uganda is "uniquely advantaged," with globally resounding high-interest stories, thriving diaspora human resource pool, scenic landscape, and diverse climate, that are beneficial to the emerging film industry," says Sentongo, his producing a slate of five globally resonant tourism and cultural-themed feature projects to be released through an internationally recognized studio.
At the summit, it was also announced that the Honorary Consul of Uganda in Florida, Peter Schou Nielsen, is producing an estimated $32M budgeted epic biblical production entitled "Betrayal."
Minister of Foreign Affairs, Hon. Odongo Jeje, Minister of Finance, Hon. Matia Kasaija, Principle Private Secretary to the President, Dr. Kenneth Omona, and newly appointed Ambassador of Uganda to the United States, Robie Kakonge, were also in attendance.
Notable foreign productions shot in Uganda include "The Last King Of Scotland," "Queen of Katwe," "Sara's Notebook," and "Fauci."
###
PRESS CONTACT: Justin O. Cooper - justin@jocmedia.com - (404) 803-3006
Uganda Film Promo Reel: https://vimeo.com/jocmedia/uganda