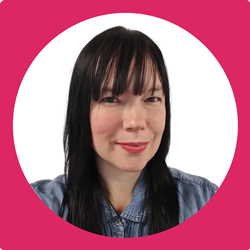 Fable clients have an innovative advantage with their products.
TORONTO (PRWEB) January 19, 2023
Fable, a leading digital accessibility platform, has announced the hiring of Jennifer Chadwick as Senior Accessibility Specialist. With over 15 years in the accessibility industry, Chadwick joins Fable's innovation team to expand product offerings that enable organizations to operationalize and scale accessibility. This addition signals continued growth at Fable, after announcing their Series A and launching two products, Fable Upskill and Fable Pathways, in the past year.
Chadwick has worked as a digital accessibility strategist and review board member with global organizations, governments, non-profit advocacy and standards bodies, including CIBC, Siteimprove, University of California, Barclays Bank, Government of Canada, and the European Parliament. She has been an invited speaker at the United Nations Conference of State Parties (COSP) and CSUN, and is an advisory board member for the ICT Accessibility Testing Symposium and the W3C.
"Jennifer has been integral in advancing the practice of digital accessibility," said Alwar Pillai, Fable co-founder and CEO. "Her expertise will enrich Fable's products and our customers' ability to drive accessibility and innovation. We are proud she has chosen Fable as the place where she can bring her experience to make the most profound impact."
Over one billion people live with a disability globally. This largely unaddressed market segment is increasing proportionally due to an aging population. As everything from media to commerce and healthcare is moving online, digital inclusion and accessibility are vital. However, the digital products and websites we depend on are still often inaccessible to people with disabilities.
Fable's innovation team is a thought leader in the accessibility space – elevating the voices of people with disabilities and challenging organizations to think differently about accessibility problems.
"There's incredible value in Fable's testing community," says Chadwick. "Insights from usability testing, combined with Fable's expert, role-based training is a powerful combination for any digital team. Practitioners adopt an inclusive mindset which they apply to design, development, content, and brand – early and often. This gives Fable clients an innovative advantage with their products. I'm thrilled to be a part of delivering this."
***
About Fable
Fable is the leading digital accessibility platform powered by people with disabilities. Fable helps enterprises build accessible user experiences by engaging people with disabilities throughout the product development cycle – from custom accessibility training to research and testing. Organizations work with Fable to make products more accessible for the more than one billion people who live with disabilities, and in turn, make products more usable for everyone. For more information, visit: http://www.makeitfable.com.