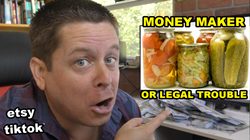 Instead says "affiliate marketing dude" tiktok influencers can actually make more money by relying on solid tested and SAFE advertising methods.
WINTER SPRINGS, Fla. (PRWEB) January 23, 2023
Selling Pickles On Tiktok? Pink Sauce? TikTok Made Me Buy It?
This month the internet has been going crazy about picklemeeverything and the hot water she has found herself in trying to sell pickles on etsy using her tiktok influence to drive sales.
Affiliate Marketing Dude sheds light on the dangerous tiktok food selling trend and shows how tiktok influencers can turn a HUGE profit without having to sell their own food items from home which is not only extremely dangerous but often times illegal and could land these influencers in hot water.
The controversy started with picklemeeverything on tiktok and Chef Pii the "pink sauce" lady, both influencers came under fire when customers were noticing the unsanitary conditions and unsafe food prep and delivery methods.
All this comes at a time when ghost kitchens and cloud kitchens are on the rise with much more relaxed food safety protocols and quality control.
It's all about the name... and the money it brings rather than the product and many influencers think that if they have an abundance they can sell whatever they want.
https://affiliatemarketingdude.com/beast-burger/ - see Marcus take on ghost kitchens here.
This could not be further from the truth says Marcus Campbell - the Affiliate Marketing Dude... and it can end up getting you in tons of legal trouble as well as financial ruin as we have seen time and time again.
Instead says "affiliate marketing dude" tiktok influencers can actually make more money by relying on solid tested and SAFE advertising methods.
For instance someone like picklemeeverything can use her reach to:
https://www.affiliatemarketingdude.com/pickle/ - see the full list of recommended methods here.

create a pickle club where people share recipes and ideas of what they are making and charge something like $5-12 per month per person... the key is to make them feel like part of the club and part of something bigger... this could grow large as a monthly recurring membership would add up super fast... Marcus has used this model to monetize many audiences over the years.
sell a pickle starter kit... include all the tools needed to start pickling on ones own... add a bonus where you give them recipes or videos or something like helpful to sweeten the deal - these kinds of starter kits with jars and pickling tools can go for $40 or more.
partner with an outside commercial kitchen to make your recipes. this is a super easy method and if you have the sales and the reach many small influencers have, a commercial campaign operation would gladly partner with you for a cut of the sales, we saw this happen with Mr. beast burger where they partnered with ghost kitchens to essentially drop ship burgers.
affiliate marketing - you can find all kinds of pickles and recipes and books and even pickling kits that you can sell as an affiliate thru amazon or food boutiques and other things of that nature.
these are just a few ideas tiktok influencers can learn from to monetize their audience.
Marcus warns that many of these new "viral trend" business are not following the rules and can get in legal trouble very fast. While it may seem simple to slap up a sauce or some pickles on a website and make money on tiktok, the truth is you could end up in big trouble.
Download Marcus' "Influencer Money Guide" To learn more about how Marcus uses these methods with his own audience and many of his clients as well https://www.affiliatemarketingdude.com/pickle/