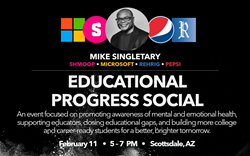 "We are excited about our close partnership with Shmoop to close education gaps and better support students, teachers, and educators." - Mike Singletary
SCOTTSDALE, Ariz. (PRWEB) January 24, 2023
What happens when a Super Bowl champion becomes a champion for students and their mental health? Former NFL linebacker and coach Mike Singletary will host an invitation-only event centered on this topic for his nonprofit organization, Changing our Perspective, on Feb. 11.
As people converge on the greater Phoenix area for both Super Bowl LVII and the Waste Management Phoenix Open, Singletary will bring together stars from the NFL, NBA, and PGA tour alongside politicians, educators, and superintendents to recognize educators and drive awareness around solutions that improve student outcomes in underserved communities.
Changing Our Perspective has partnered with Shmoop to provide programs to schools in need. Shmoop offers test preparation programs and the Shmoop Heartbeat, a research-backed tool that identifies how non-academic factors of a student's life deeply impact their ability to perform academically.
"Everyone at Shmoop is so inspired by Coach Singletary's passion for students, and we're excited to bring changemakers from across the country together to explore options for progress," said Shmoop's CEO, Andy Rahden.
Singletary will host the exclusive event—co-sponsored by Microsoft, Rehrig, and Pepsi—at Shmoop's headquarters in Scottsdale. During the event, he will present several outstanding educators with his "Tackling The Gap" education award.
"We are excited about our close partnership with Shmoop to close education gaps and better support students, teachers, and mentors," said Singletary. "It's incredible to see the difference a good teacher can make when they have the right tools, and we look forward to making an even bigger impact for more students in the future."
There is no charge to attend the event, but it is limited to invited guests. To request an invitation or more details, visit https://bit.ly/MikeSingletarySuperbowl
About Shmoop:
Shmoop provides schools with online courses, test readiness, and intervention solutions focused on personalized learning and college and career readiness, all designed for students and used by teachers for in-person and remote education. Shmoop's research-based classroom technology, Heartbeat™, focuses on a student's emotional health, cognitive position, and background to improve their ability to achieve academically.
Shmoop's test preparation tools were recently recognized on live television by Utah's State Board of Education for improving Utah's ACT scores to some of the highest in the nation. Heartbeat by Shmoop has received the formidable Learner Variability Certification from Digital Promise, most recently recognized as a Top Ed Tech Product for 2023, an EdTech Award from EdTech Digest, and a coveted W3 Award. Shmoop was also recognized by Learnosity as a "trailblazer in the social and emotional learning (SEL) space," selected as a finalist for the ASU GSV Cup Competition, and was highlighted to share more about Heartbeat's™ creation at ASU GSV 2021.
Shmoop works with schools across the nation and is viewed by more than six million students per month. Heartbeat™ has captured millions of student responses over the last few years. To learn about Shmoop's comprehensive offerings for your school or district, visit:http://www.shmoop.com/schools-districts
About Changing Our Perspective:
For more information about how to be part of the solution with Changing Our Perspective, visit:https://changingourperspective.org/