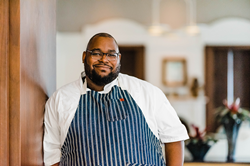 With Ọkàn, I want to showcase our ancestors' resilience and influence through thoughtful and intentional food that pushes the boundaries beyond what's expected.
Bluffton, SC (PRWEB) January 31, 2023
Ọkàn, a new restaurant concept expressing the heart and soul of underrepresented cuisine by following the culinary journey of West African-rooted cooking, is proud to congratulate its Executive Chef Bernard Bennett for being named one of twenty semifinalists in the Emerging Chef category by the James Beard Foundation. The restaurant is set to open in the Spring of 2023 at The Bridge Collective in Bluffton, South Carolina.
As a non-profit organization, the James Beard Foundation's mission is to celebrate, support, and elevate the people who are paving a better future for America's food culture and a community where all can thrive. Considered to be among the nation's most prestigious honors, the James Beard Awards recognize exceptional culinary and food industries talent as well as a demonstrated commitment to racial and gender equity, community, and sustainability.
Chef Bernard Bennett helped formulate the concept for Ọkàn from his passion for learning how history and culture have shaped how we eat and where our food really comes from. He asks that any preconceived notions for African American cuisine be checked at the door, as Ọkàn will creatively approach shareable dishes in a community setting which are deeply inspired by West Africa and the Caribbean.
"With Ọkàn, I want to showcase our ancestors' resilience and influence through thoughtful and intentional food that pushes the boundaries beyond what's expected," said Chef Bernard. "It is an honor to be recognized by such a highly-esteemed organization that aligns with Ọkàn's mission, and validates our vision. I am humbled to be among the amazing group of industry colleagues and friends, and inspired by what our future opportunities hold."
Located in the heart of Old Town Bluffton and coastal South Carolina, Ọkàn will locally source the best the region has to offer. Utilizing the vast resources of local farmers, fisherman, and other purveyors, Chef Bernard and Ọkàn aim to cultivate relationships honoring the pathways and history of the African-American heritage. The menu will showcase how ingredients originated, changed through the course of forced migration, and now celebrate an elevated pairing of cultures. While the local community has been able to enjoy aspects of the cuisine through thoughtfully crafted elevated dinners and visits to the Ọkàn Food Truck, the vision of co-founders Chef Bernard Bennett, Matthew Cunningham, and Benjamin Carson will fully come to life with a bold and differentiated menu of food and libations when Ọkàn opens this Spring as a part of The Bridge Collective.
"We are so proud of Chef's accomplishments and excited to begin seeing his vision become a reality," co-owner Matthew Cunningham shared. "The Semifinalist nomination is a well-deserved achievement for not only a talented chef but an innovator and leader with a powerful message."
The full list of 2023 Restaurant and Chef Awards Semifinalists can be found on the James Beard Foundation website. The finalists for each category will be announced on Wednesday, March 29, and winners of the highly celebrated awards will be honored at the James Beard Restaurant and Chef Awards Ceremony on Monday, June 5, 2023, at the Lyric Opera House of Chicago.
About Ọkàn:
Ọkàn is a new restaurant concept opening the Spring of 2023 in Bluffton, South Carolina at The Bridge Collective, a thoughtful curation of vendors that champion building an inclusive community. Ọkàn's mission is to connect people to one another through a culturally unique dining experience and embrace the opportunity to explore underrepresented cuisine, all-the-while directly impacting and engaging local farmers, empowering employees and compelling guests. Thoughtfully prepared local ingredients will represent their evolution from West Africa to the Caribbean, through South America, and arriving in the Lowcountry. Ọkàn and Executive Chef Bernard Bennett craft a culinary journey through taste in a lively, welcoming environment which invites open dialogue, communal energy, and a unique sense of home.
About The James Beard Foundation:
The James Beard Foundation's Restaurant and Chef Awards—established in 1990 and first awarded in 1991—are one of five separate recognition programs of the Awards. This Awards program celebrates excellence across a range of experiences, from fine-dining establishments to casual gems, and emerging talents to established masters. The 2023 Restaurant and Chef Semifinalists are recognized across 23 categories.