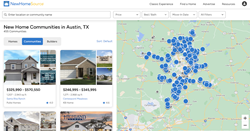 Our mission is to be the leading destination for connecting consumers with builders. This enhancement of NewHomeSource brings our mission to life and ensures a comprehensive and inspiring experience for online home shoppers and uniquely positions home builders for success. – Kevin Krone, CEO of BDX
LAS VEGAS (PRWEB) January 31, 2023
Builders Digital Experience (BDX) announced today at the International Builders Show that the company is rolling out a new experience for home shoppers on NewHomeSource.com, the leading website for new construction listings. The new design, based on home shopper feedback, industry analysis and e-commerce best practices, gives consumers the ability to use location-based searching and enhanced new home filtering to find their dream home online. "Our mission is to be the premier destination for connecting consumers with builders and providing an unparalleled digital experience for dreaming, finding, and designing a new home, said Kevin Krone, CEO of BDX. "This enhancement of NewHomeSource helps bring our mission to life, ensuring a comprehensive and inspiring experience for online home shoppers and uniquely positioning home builders for success."
With more than 100,000 new homes from hundreds of builders across the nation, NewHomeSource is exclusively focused on providing consumers with the highest quality and most current information about new home construction communities and homes. The latest design continues the journey to position new homes as the premier option for online home shoppers. For over 20 years, NewHomeSource has given online home shoppers all the information they need to find their new home online. Filtering options on the new site are designed to uniquely position new home advantages and help home shoppers accelerate their buying journey. In addition to standard real estate search parameters, the site gives shoppers the option to search based on move-in-date, home type, and available community amenities. In addition to the enhanced consumer experience on NewHomeSource.com, BDX also announced additional markets are available for Spotlight advertising.
The Community and Home ads give builders prime positioning on search results pages. These exclusive positions have launched in 25 markets across the country with many positions selling out just hours after becoming available. Here is what leading home builders are saying about the enhanced experience on NewHomeSource.
"The team at BDX truly understands the new construction journey, the advantages of new homes, and the challenges buyers face during the shopping process," said Linda Mamet, Chief Marketing Officer, Tri Pointe Homes. "This dedication to the new home industry and the company's expertise with e-commerce and technology are evident in this latest release of NewHomeSource.com."
"We are excited to see the focus on location-based search and advanced new home filtering in this latest release of NewHomeSource.com," said Amit Desai, Chief Marketing Officer, KB Home "We trust BDX to be at the forefront of helping consumers navigate the new home shopping journey and their dedication to positioning new homes in the best possible light is an asset to our industry."
"We are excited to see how the recent changes to Newhomesource.com not only address consumer expectations about the home buyer journey and searching online but also honor the differences and unique perspectives of mobile versus desktop audiences," said Barbara Drees, Vice President of Marketing, Drees Homes.
"For years, we have looked to BDX as a trusted partner to help guide our digital market initiatives. The new look for NewHomeSource is clean, simple to navigate and we believe the site will make it even easier for home shoppers to find their dream home," said Trey Lewis, Vice President for Ole South Properties. "We've been pleased with the quality of leads that we received from NewHomeSource and expect that with this new approach that the results will be even better."
About BDX and NewHomeSource
The BDX mission is to be the premier destination for connecting consumers with builders and providing an unparalleled digital experience for dreaming, finding, and designing a 'new' home. The company's flagship website, NewHomeSource.com is the leading online destination for consumers as they search for new construction communities and homes. The company brings home builders a variety of solutions for lead generation, visual content, and e-commerce. In addition to NewHomeSource, BDX also offers the Envision online design center, and a variety of visual content solutions like renderings, interactive floor plans, 3D home tours, visualization and virtual reality. Home shoppers ready to search for new construction communities and homes can visit http://www.newhomesource.com. Home builders interested in connecting with home shoppers will find more information at http://www.thebdx.com or by visiting booth W2544 at the International Builders Show In Las Vegas.