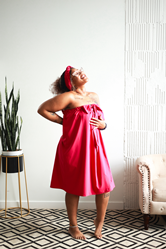 Made with luxury, comfort, and fit at the forefront of craftsmanship, SpaStar, is designed to make everyone feel gorgeously pampered. Diversity is beautiful, so let's celebrate that.
LOS ANGELES (PRWEB) February 10, 2023
Renowned beauty company SpaStar® have officially launched The Get Ready Wrap® as part of their ongoing mission to create a more inclusive experience within the luxury spa industry. The Get Ready Wrap® is a spa-inspired wrap that is made for virtually every single body. Designed with comfort and eco-elegance in mind, with no uncomfortable velcro, snaps or bulky materials, the spa/resort wear is perfect for spa treatments, beauty rituals, getting ready and gifting. Above all, and most importantly, it is functional – and fits every single body.
The first of its kind in the industry, The Get Ready Wrap® is said to fit anyone and everyone, and was launched in the fall of 2022 - after the founder of SpaStar noticed a gap in the market for inclusive luxury resort wear and spa wraps.
"It's something clients, customers and spa owners see happen all too often," says Lori Crete, Licensed Esthetician and founder of SpaStar®. "A client walks into the door, excited to get their makeup done, get a facial, massage, or beauty treatment. But then they see the spa wrap, and lose the sparkle in their eyes as they realize – 'I don't think that will fit me'."
"There's simply no worse feeling for a customer, and can you imagine starting what should be a luxury, high-quality experience, with this thought going through their mind? That's where SpaStar's The Get Ready Wrap® comes in. Made with luxury, comfort, and fit at the forefront of craftsmanship, this product is designed to tackle inequality and make everyone feel gorgeously pampered. Diversity is beautiful, so let's celebrate that."
The luxury spa wrap is not only perfect for spa-use, but the wrap is also designed for use at home, for those who want the spa-ready feeling while honoring beauty and self-care rituals. Whether it's for a special occasion, getting ready each morning, make-up tutorials, travel, poolside style or in the gym locker room – the The Get Ready Wrap® is ready for anything.
"It's elevated simplicity for the self-care enthusiast," says Lori. "Estheticians live to make their clients feel pampered, and the first step to succeeding in this is by providing them with clothing or wraps that make them feel and look good. Sadly, if you do not cater to this need, the client's good vibes and feeling about your services can be instantly crushed if they feel embarrassed by having to share with you that the spa wear won't fit."
"Every single person deserves to feel included, and should never be singled out. They deserve to feel beautiful, comfortable, and properly covered. This is something that was imperative when it came to designing The Get Ready Wrap®, and is part of our overall ethos."
SpaStar® Luxury Spa Wraps and Headbands are designed to fit virtually every body, and is even designed without bulky material to ensure it never takes up much room in a closet, laundry, spa room or suitcase. Transportable, light, and luxurious, the wrap is made with high-quality materials, making it soft, chic and long-lasting.
Whether someone is investing in a spa treatment, getting ready for that special date night, winding down with a bubble bath and face mask, or getting ready with bridesmaids, SpaStar spa wraps will make every self-care ritual feel like an eco-chic luxurious experience – in the spa, or at home. SpaStar® provides the ultimate self-care accessory, built and designed for everyone.
"In addition to our popular body wraps, we also offer headband wraps, that are suitable for every size," says Lori.
"After noticing there were no headbands for the spa that worked for everyone, we created what we believe is the first ever a spa-chic headband that works like a gem. Protecting your hair from skincare, oils and moisturizers, the headband is designed without the annoying velcro and leftover forehead dents which are usually caused by tight elastic. The headband is virtually slip-free, so it magically stays put whilst you get ready. There is also added space in the back, for you to gently tuck in hair."
Available to purchase online individually by beauty-lovers, bridal parties and more, the headband and The Get Ready Wrap® are available in chic colors such as black, blush, berry and sage. The headband is available to purchase for just $29.00, and The Get Ready Wrap® is available for just $150.00.Spa-owners can also purchase wholesale wraps online, by visiting the footer of SpaStar.net and filling out a short application.
Notes to Editors:
For more information or to contact the founder for an interview, please email Hello@SpaStar.net. To browse the products, please visit: SpaStar.net Follow their journey on instagram @SpaStar_Lux